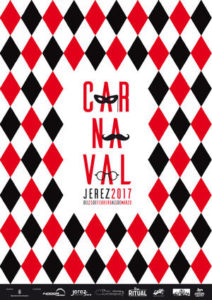 This year's Festival de Jerez runs from 23rd February to 10th March. The other good news is that the Carnaval de Jerez this year coincides with the Festival, running from 28th February to 5th March. Not as famous as its Cadiz cousin, Jerez Carnaval is still great fun.
The street events begin at midday on 28th in the Plaza de la Yerba with the chirigotas de Jerez performing their repertoire. This event will be repeated on 3rd March at one o'clock. It will, I anticipate, be very busy on the Saturday and the Carnaval parade on Sunday is likely to be even busier. This starts at midday at the Calle Muro and crosses the city to end in Plaza Asuncion in front of San Dionysio where all the singing groups will be performing again.  Fancy dress is encouraged, for participants and followers of the cavalcade alike.
There are Carnaval competitions, some of them indoors, which are free to go and see and, if the weather is inclement, which it sometimes can be at this time of year, there are lots of other things to do. There are exhibitions associated with the
Festival in the Centro Andaluz de Flamenco at Palacio Pelmartin , in the beautiful 12th century Claustros de Santo Domingo and in other venues. For Spanish speakers there are lectures, in addition to the usual flamenco courses. This year some courses are also being offered by the peñas e.g. the guitarist Manual Parilla at Peña F.Buena Gente.
The Festival is also keeping up with modern technology. This year, in addition to the palmista app, now available in English, there is a flamenco dance app. I haven't seen it yet. Palmista workshops were available last year at the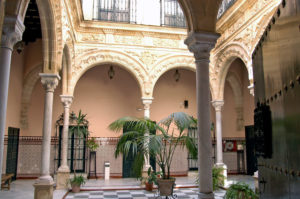 Palacio Pelmartin and I anticipate that this will be repeated this year (though beware the temptation to put into practice what you have learned when sitting in a performance audience  it can annoy your fellow concert-goers).
Watch out for the Flamenco Flashmobs and take your dancing shoes. They usually happen at the start of the Festival.
The peñas haven't yet published their programmes, to my knowledge ( though I haven't been in Jerez since before the holiday ). Check out the face book pages of Peña F. La Buleria, Peña F. Don Antonio Chacon,  Los Cernicalos Flamenco  nearer the time. El Pasaje Tabanco also usually has a full programme of flamenco events which I have enjoyed in the past. This is one of the most authentic venues in Jerez outside of a peña and I'll definitely be going, as well as to El Guitarron  another venue which features regularly on these pages. There are plenty more peñas and tabancos to check out, these are just my particular favourites and, if earlier years are anything to go by, there will be a leaflet of 'off Festival' published for Festival goers. The problem, as always, is getting into the peñas which are very popular and often over-subscribed.
My party is already eagerly anticipating this year's events. If previous years are anything to go by they will be amazing. We can't wait. See you in Jerez.
If you enjoyed reading this article you might also enjoy                          Festival de Jerez 2018                    Lamento                  Camerata Flamenco Project – Amazing                     Jazz Guitar