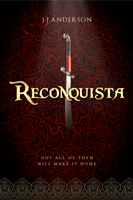 'Reconquista' goes live!
From today, 30th March,  'Reconquista' (380pp) is available to download for £2.10 from the Kindle store, Nook, Apple and other on-line retailers.
Paperback copies are available on Amazon for £7.99 ( special price for the Clapham Literary Festival, rising to £8.99 thereafter ).
The paperback version of 'Reconquista' will also be in book shops very shortly thereafter, also priced at £7.99  ( until May 9th ).
The first in the Al Andalus series follows the, sometimes harrowing, and often dangerous, adventures of Nathan and his friends as their city falls to the invading army of King Alfonso X of Castile and Leon. It is suitable for twelve-year olds and above. The 'e' version has been available for pre-order on the Kindle Store since before Easter.
Pre-launch review readers (of all ages) have given good feedback and reviews. Some examples are –
'Excellent. A real page turner.'
'Reconquista is brilliant. It vividly brings the past to life. '
'The story rattles along and I often didn't know and couldn't guess what is coming next. I read it at one sitting.
I hope that people enjoy it as much as some of my pre-publication readers have.
At the same time the web-site www.reconquista.online is also up and running. It shows details of the various versions of 'Reconquista' available for sale and where they are to be found, together with the pre-publication reviews.   To view it click here.
'Reconquista' will officially be launched on Saturday 7th May at Clapham Books as part of 'Omnibus Edition' the 2016 Clapham Literary Festival.  This is a ticketed, but free, event in the garden marquee, with sherry and flamenco guitar. In the run up to the Festival and during it, 'Reconquista' will be available at the special price of £7.99.  Clapham Books is 'official' bookseller for the Festival.
And 'Reconquista' is also one of the books for discussion at the 'Readers Afternoon' festival event at 2.00p.m. on Friday 6th May in the Omnibus Arts Theatre.  This session, chaired by celebrated novelist, Elizabeth Buchan, engages with local book clubs, asking them to read the books then come and discuss them with the authors. The selection of books ( shown below ) includes short stories, thrillers and 'Reconquista'. All the authors involved live and work in Clapham or very nearby.  Ticket price £7 ( and £6 concessions )*.
The Story Bazaar will be publicising the Festival and much publicity can already be found across south London, the Press release and Programme will be available shortly. Local radio stations and Lambeth Libraries are taking part. We hope to generate a buzz on social media, with the hashtag #claphamlitfest on Twitter.  A live twitter feed will be running through-out the Festival shown in all three venues.
If you want to know more about 'Reconquista', its genesis and development try reading the following articles                    Reconquista.online                 Entitlement                   Reading a book by its cover
*The other books and authors involved in Readers Afternoon are 'Breathe' short stories set in Castro's Cuba, by Leila Segal; 'My Memories of a Future Life' Clapham-based, psychological thriller by Roz Morris; 'Departing Vienna' contemporary thriller exploring the legacy of WWII by John Taylor.