It's that time of year and the book buying public are preparing for their
Summer holidays. Publishers with huge promotional budgets have been placing ads on public transport, in magazines and every where they think they'll get a good return. You'll spot more of them around now and in the late Autumn, during the run-up to the heavy-selling Christmas period, than at any other time of year.  Soon the 'Holiday Reading' articles will begin appearing in the national press.
So what is The Story Bazaar doing?
In previous years, I have run time limited 'giveaways' on Goodreads and taken out short ads, also on Goodreads, to promote them.  I wrote about my experiences doing so in How NOT to promote a book . While the adverts paid for themselves, I didn't see much of an up-turn in sales and, while plenty of Goodreads members marked down my books as 'To Read' or put them on to wish lists, I can't see this translated into sales in any great numbers ( though it might, in a small way, one just can't track such minor events ).
So this year I'll be doing something different.  I have enrolled both The Village: A Year in Twelve Tales and Reconquista in the Smashwords
Summer Sale. This means that, for the month of July, that is, from TODAY, folk who use Smashwords, the independent 'e' book distribution site ( which places books into lots of other on-line sites ) can buy these two books for half their normal price.
As ever the problem remains getting this message to sufficient potential readers to prompt purchases.  So, I'll be posting on Twitter and Facebook, blogging (this article will appear on all my social media) and I'll be scheduling 'Event' publicity on Goodreads and other sites.
Interestingly, the Smashwords Survey 2017 has just been published and it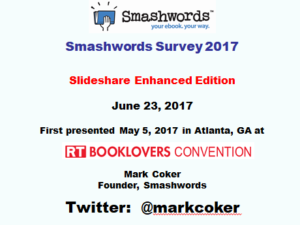 is, as ever, full of lots of information, much of it of immediate usefulness. The Survey is based upon all the data compiled by Smashwords on sales by genre and activity in 2017 ( just the sort of thing I would like to delve around in myself ). One startling statistic is about the high percentage of book sales closely linked with the book being available on pre-order.  That is, appearing on the Smashwords and other sites before it is published.
In consequence I have already listed the sequel to Reconquista as a pre-order on Smashwords and will shortly be doing so on Amazon too. I plan to do so on as many book selling sites as I can find ( although Smashwords covers most e-book sellers ). Even Tescos has a book pre-order facility these days. Of course, it will be necessary for me to generate pre-publication 'buzz' and how I will do that remains to be seen.
In the meanwhile I'll be watching carefully to see if I manage to improve sales across July.  It isn't a given, there are just too many books out there and many of them are available at no cost. I'll report back later in the year.
If you enjoyed reading this article you might also enjoy           Promoting a book….       Promotion and Self-promotion                What makes a book sell?              How NOT to write     How NOT to write again