To round off another first-rate celebration of books and reading at the Clapham Book Festival this year we are pleased to present novelist and screen writer, Deborah Moggach OBE.
The child of two writers, Deborah went to Bristol University and then did a variety of jobs, including working in publishing, before she married and, in the mid 1970s, went to live in Pakistan. This is when she began to write and her first novel, an autobiographical tale, You Must Be Sisters was published. This was closely followed by Close To Home, about a mother with small children. By this time Deborah had returned to London and had a son and a daughter.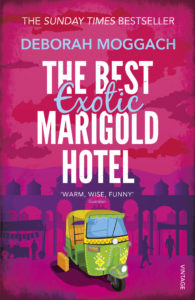 Moving away from the autobiographical, the next eight novels were set in various locations, Karachi, the U.S., a pig farm near Heathrow… All drew critical praise. In the mid 80s Deborah began writing screenplays, receiving a BAFTA nomination for her adaptation of Pride and Prejudice starring Keira Knightley and adapting other of her books for the screen.  She wrote the screenplay for Love in a Cold Climate for the BBC and won a Writers Guild Award for her adaptation of Anne Fine's Goggle-eyes. The most recent of her own novels she has adapted for the screen is Final Demand, starring Tamsin Outhwaite, a tale of fraud, retribution and reptile breeding on the BBC.  But her most famous adaptation was of her novel about out-sourcing elderly Brits to India, These Foolish Things, which became the tremendously popular The Best Exotic Marigold Hotel (and spawned a hundred similarly long and convoluted film titles – witness the latest Channel Island set book
club film – none of which have been as successful as the original).
Deborah has also written historical fiction. Tulip Fever, which was also filmed (2015) is set in the 17th century Dutch Republic, during Tulipmania. This was inspired by Dutch painting, particularly Vermeer and de Hooch, though, of course the Dutch also painted wonderful still life paintings of flowers, insects and tulips ( see Flower Fanatics ). Her other historical novel In the Dark is set in 1916 and, she says, is about 'war, meat and sex'. Her most recent novel is Something to Hide, which trots the globe, exploring forms of betrayal and how everyone has secrets, be it in London, Texas, Beijing or west Africa.
Deborah has been Chair of the Society of Authors, on the Executive Committee of PEN and is a Fellow of the Royal Society of Literature.
And what's more, she will be discussing her novels and screenplays (with some hilarious stories about Hollywood and the world of film-making) at 7pm on Saturday 12th May in Omnibus Theatre closing the Clapham Book Festival 2018.  Tickets are available at Omnibus, costing £15/£12 concessions and a snip at the price. Afterwards join us in The Greene Room, for chat and live music. Local authors, including those taking part in the Festival, will be there.
If you want to read more about the Clapham Book Festival 2018 or earlier editions why not try               Books & Walking                 Crime Land                  Word Force                     Walls Have Ears            How to Get Published