Anselm Kiefer has completely transformed the White Cube Gallery in Bermondsey Street ( nearest tube, Borough Northern Line ) with his show 'Walhalla'.  I went to see it last week.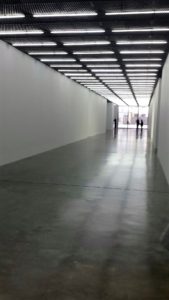 The gallery's central corridor, with pristine white walls and rows of ceiling lights (see left) has been turned into a very different space as the centre piece of the exhibition.  All light, except from a row of bare bulbs, has been expunged and the walls are lined with oxidised lead. The effect is claustrophobic. At the end of the corridor is a photograph of a man, wearing a great coat and walking away from the viewer on a muddy track apparently lined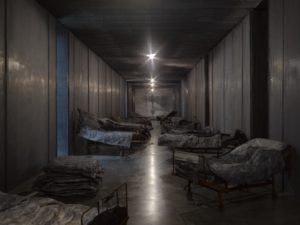 by a concrete and barbed wire fence.
Lining the corridor are a series of metal beds, like very old hospital beds, with pillows and coverings made of lead.  On one bed an antique machine gun lies, on another there is a name tag. Both are suggestive of an ancient war-zone hospital. Not surprising, as war, and, in particular, German war and its legends, as well as art, are what this exhibition is about.
The first room off the corridor contains three paintings also entitled 'Walhalla', done in oil, acrylic, emulsion, shellac and clay, of Kiefer's towers, the landscape of the hall of fallen warriors. People are represented, as is often the case with Kiefer, by their written names, these having a symbolic as well as a nominative purpose. The whole are blasted and covered with plumes of noxious paint/clay/smoke.
Kiefer has always created work where myth and symbols merge with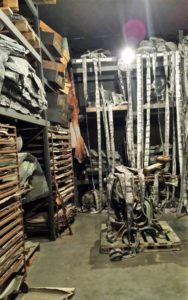 history, going back to his preoccupation with Germany's woods and forests ( 1976's 'Varus' or 1973's 'Germany's Spiritual Heroes' ). It was engaging to see him play with this in the installation in Room 11, entitled 'Arsenal', which looked to me like a box-room or attic of the imagination, including spools of 'film', boxes bearing legends like 'Nothung' (Siegfried's sword) or 'Freia' (goddess of nature) and other dusty 'relics'.  The artist's weapons indeed.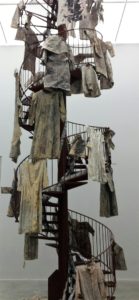 I also enjoyed 'Sursum corda' a rusty spiral staircase disappearing into the ceiling and hung about with the clothing and other paraphernalia of the Valkyries, discarded as they climbed it to take the warrior dead to Valhalla. Gone but not forgotten. By their chemises shall ye know them.
The large room at the far end of the exhibition has sculptures and large paintings. The latter, like so many of Kiefer's paintings have receding perspectives, a path into a desolate, blasted landscape, pock-marks in paint suggestive of  impact craters, hung about with smoke skeins and blast debris.
Some of the installations aren't subtle – the hammer and anvil marked
'Thor' – some require historical knowledge – '23.5.1618' – with broken pseudo panes of 'glass' denoting the defenestration of Prague which heralded the Thirty Years War. Kiefer is still, even when playful, engaged with his country's history and mythology ( and mythologising ). I wish I knew more German and could read more of the inscriptions.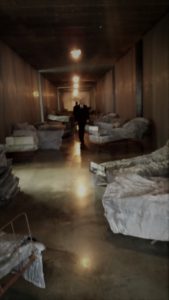 As you end the exhibition you have to return again through the ill-lit hospital ward and walk towards the daylight at the front of the White Cube building.
It strikes me as a very 'Germanic' exhibition, serious and sometimes grim, but also melancholic and with humour. It is FREE to enter and runs until 12th February. It is definitely worth a visit.
If you enjoyed this article you might also enjoy           Maggi Hambling                     On the wings of imagination               Anthony Gormley