Back in London this week for a few days, I was surprised by the late summer – the hottest September days this century, or something, apparently. But, as we know, nothing lasts for ever and so I wasn't
disappointed to be on my way to Gatwick this morning for a flight to Malta where, I believe, there has been no rain at all this year. Life is full of contrasts I'm thinking, while reminiscing over the last few nomadic months – time to ponder, given a delayed flight, the consequence of today's thunderstorms in London.
I'm not, as I believe I have mentioned before, the best planner when it comes to personal matters. Put me in an office and decisions, somehow, come easily. Who, what, where, when, how… answers just come. But evidence suggests – I get in and out of bed and manage to be somewhere every day – I can come to a decision about how I'm going to spend my time.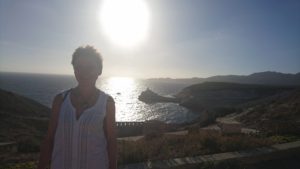 So, during the first week of August, I was trying to decide what to do after visiting my mother in Glasgow for her birthday on the 11th. I actually spent an afternoon at a 'How to Make a Decision' workshop at the London School of Life around a year or so ago – clearly it didn't work, neither for me nor my son, Steven, who seems, unfortunately, to have inherited my indecisiveness.
Anyway, I was basically trying to decide between meeting up with a friend, whom I had first met for an excursion to Everest four years earlier, to share her bungalow in Corsica for yoga, swimming in the sea,
relaxing and enjoying good food… or Sitges for a couple of weeks of Spanish lessons before walking along the northern coast of Spain; I think I was also considering going back to volunteer at the Vipassana meditation centre in Hereford.
I told my friend I wasn't coming to Corsica. Two days later, just as impulsively, I changed my mind. I mean sun, sea, yoga, wining, dining… what could beat that? Flights were booked and I took off from Glasgow via Paris to Figari.
Petia spends two months at La Chiappa every year teaching yoga and giving reiki to tired out holiday makers, her Corsica Yoga school has been going strong there for the last 15 years (more on that later). She picked me up from the airport and off we went together picking up Corsican local produce for a lengthy lunch on our arrival at her place.
The catch… this beautiful spot by Porto-Vecchio on the East coast of Corsica is a naturist one! As we drove into the private campsite there was some sort of obstacle in front of the car and a very naked gentleman
kindly stopped and moved it from our way. Oh my God, was I going to cope? Words from my kids not to send any photos of this trip were ringing in my ears.
But what a beautiful experience. I spent three and a half weeks there, longer than I had been in any one place for a long time. It was a truly liberating, levelling experience. Swimming solo in the sea every morning, mediation on the black rocks, sunrise and sunset yoga (that was with clothes) and a variety of breathing workshops – given by me – was absolute magic.
This post was written on 16th September.  The delay in posting was entirely my fault, as I was in the south of France, Ed.
If you enjoyed reading this article you may also enjoy                     Inside Out on the Camino         Borders        A Lone Sheep                   Empty Nesters