In the months prior to embarking on this particular sojourn, I had been researching more closely the
concept of emotions. How do we actually feel? Where do we feel? Do these feelings have shape, colour and so on. The usual retort on being asked how we feel is 'Fine', sometimes 'Awful' or something equally glib and non-descriptive. Yet, according to neuroscientist Dr Alan Watkins, we have something like 34,000 potential emotional states. The Dalai Lama and others believe it important that we tune in.
And so, grateful to the family from Vilarinho who had allowed us to use their home the night before, Steve and I set off for Barcelos, tuning in. Our first hour we walked in silence, a walking meditation. A few stretches before our first stop for the day – eggs and coffee at one of the many friendly cafes along the
way.
Though 27km in fairly hot sun is not exactly a walk in the park, it is clearly so much easier than it would have been in the days of the early pilgrims who made their way, ultimately, to pay homage to St James the apostle, his remains enshrined in the cathedral at Santiago de Compostela.  Not least of all, the yellow arrows that show the way would undoubtedly not have been a feature of those days of old. A welcome sight for us, however, our eyes having become well attuned.
Our second day of walking was still mainly along cobbles and concreted paths, but with some beautiful scenery, churches, bell towers and villages along the way. Tired out as we neared
our destination, a bus shelter was a welcome spot to rest and snack. We were surprised when a man approached us with gifts of what he explained was a catholic key-ring. An odd, but uplifting encounter.
The old stone bridge that lead us in to the market town of Barcelos was a welcome sight. The town has the largest number of church parishes in Portugal, but is most famous for its galo, the iconic Portuguese rooster who, though already roasted and on the plate, crowed three times in proof of the innocence of a pilgrim accused of a crime. The judge had to concede that the pilgrim had not, after all, stolen his silver and the pilgrim was allowed to step down from the scaffold.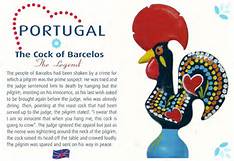 There were many depictions of the famous rooster around as we arrived amidst a medieval fair. A monk in full costume warmly welcomed us and guided us to Aldergue Cidad de Barcelo, our accommodation for the night. Already we had a routine. Choose our beds, shower and laundry, a short rest then off for dinner. We were particularly spoilt for choice of places to eat in Barcelos.  Used to London prices, we ( or I ) had the initial tendency to choose places more upmarket than was either wise or necessary.  Still, the food was excellent and we recognised fellow pilgrims who we had met along the way.
Later I was glad of the eye mask and ear plugs which had made their way into my paired down travel items – with them sound sleep came easily amidst the many snoring peregrinos.
If you enjoyed reading this post you might also enjoy                          The Nomad                    A Lone Sheep           The End of the Way                      Where next?                      Inside and out