Sitting in Muscat now looking out at a stormy sea from 'my' bedroom window (fortunate to have great friends here). High winds and, unusually, raining off and on throughout the day. I really do not remember seeing rain at all when I lived here 2004-2007. And, the temperature tonight, according to the phone app, may, apparently, be as low as 11C – unheard of chilly weather for this part of the world. And this is the second time in two weeks it has been like this. I could feel a little depressed I suppose wondering if this is the effect of global warming, but I won't ponder on that.
The consequence of the strong winds this morning though was, that I chose to do a fifty minute cardio workout, the alternative offered by the training schedule to replace the five or six-mile 'easy run' if desired.
So a search on youtube threw up a few options and I got started. I used to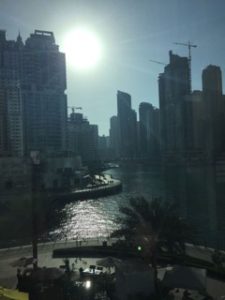 love aerobic and step classes, all that high energy, impact jumping up and down. But some twenty plus years on… OMG it was tough. Wondering if I can look forward to aches in places I haven't had for a while when I wake tomorrow morning, but won't dwell on that either.
Given that I'm not exactly at the younger end of the runners scale, I thought it prudent to have a physiotherapist check me over for alignment and suchlike – I have determined that I am going to finish all this training for the Comrades in Durban in a better state of health than I was in going into it ( I started off already in a generally good state of health ). All was good, some minor modifications to stretches here and there.
I was pleased that I woke up with a resting pulse this morning of 49 BPM, testing it every morning on my Cardiio app to make sure I'm not overdoing it. So for example, if it was over 70 first thing, then I would probably have a rest day, no matter what the schedule said.
I came across Dr Phil Maffetone, from a Google search 'Clinician. Coach. Innovator' and, a long distance, 'seasoned' runner also. From his, and others, research, he recommends keeping the heart rate within a certain range using his '180 Formula'. Roughly, deduct your age from 180, with a small tweak, and you ensure that you keep your heart rate while running around that number. This ensures that the runs are aerobic, as oppose to anaerobic, and avoids unnecessary damage to the body. Crucially, from my own research, this also enables nasal breathing throughout the whole of the run.
All in all, I can say, I am, quite surprisingly, enjoying being back into running. Week one of this 24 week schedule started off with around 28 miles along with some strength sessions; now up to 40 plus miles with some speed work and more strengthening. The joy may be in part as my scenery keeps changing, these last seven weeks have seen me out and about running in Abu Dhabi, Dubai, Glasgow, London and Muscat.
If you enjoyed reading this article you might also enjoy                    Week Five training                       Comaraderie on the Camino               West Highland Way