For democracy to thrive we cannot allow elections to be bought. Yet evidence mounts that the result of the Referendum on EU membership in June
2016 may have been bought and paid for.
This has a number of aspects, which this article seeks to summarise.
First, campaign spending. This is about exceeding the spending limits ( or giving money to another body to spend so as to avoid doing so ) and recording what you spend.¹
Second, that all registered bodies must be UK bodies (with particular exemptions for territories like Gibraltar ). Donations to these must be from UK sources and their sources must be known.  Any donation of over £500 the source of which is not transparent must be checked (and the onus is on the recipient to check the real source, even if there is an agent or third party actually giving the money). Accepting a donation which isn't permissible may 'be a criminal offence' the Electoral Commission says.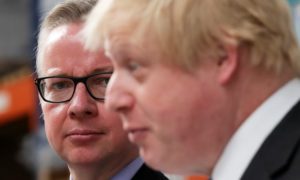 So,  on campaign spending, we know, from Shahmir Sanni and others that Vote Leave (the 'lead' campaigner fronted by Boris Johnson and Michael Gove) gifted funds of £625,000 to BeLeave which was not a real independent body, but one which took direction and money from Vote Leave. Had Vote Leave spent these funds it would have exceeded its spending limit by 8.9%.  The EC Report is expected imminently and to have found breaches of the law ( this morning the BBC carried a news story from a leak from Vote Leave, seeking to spin this story ).
LeaveEU exceeded its spending limit by more than 10%, failed to be transparent and inaccurately reported loans received from Arron Banks totalling £6m ( see the Electoral Commission's report ). Leave.EU's Chief Executive Liz Bilney has been referred to the police on suspicion that she has committed criminal offences. The fine of £70,000 imposed by the Commission was, it noted, 'constrained by the cap on the Commission's fines'.
It must be said that a number of Remain campaigns were also fined for irregularities, but at a much lower level.
But, going on to the source of funds.
The DUP, a registered campaign, funded Brexit advertising costing £425,000. It was not required to state the source, because of a loophole exempting Northern Ireland campaigns from doing so. This harks back to the days of The Troubles and the law has since been amended. Subsequently the donor was identified as the Constitutional Research Council, a shadowy body, chaired by one Richard Cook, an entrepreneur whose businesses, usually with foreign links, seem to dissolve with regularity.  See this report from Open Democracy UK ( and it's worth taking a look at the other reports highlighted, Mr Cook and his business associates seem to have some murky dealings ). Where did this money come from? It is unknown. Has the DUP broken the law?
Then there is the biggest financial backer of Brexit – Arron Banks, who donated £8m overall, £6m in loans (as yet not called in) to Leave.EU. Banks has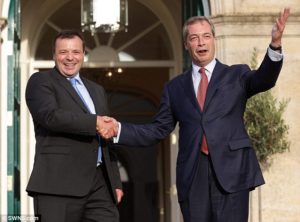 a number of companies, mostly off-shore, in Gibraltar and the Isle of Man, including Eldon Insurance (currently under investigation by the ICO for breaches of the Data Protection Act), Southern Rock (co-founded with Alan Kentish who was arrested in October 2017 by Gibraltar Police under their Proceeds of Crime Act; this company declared itself 'technically insolvent' in its own 2011 accounts) and ICS Risk Solutions (Kentish and his wife on the Board of the Isle of Man based company). It was ICS which injected £77m to bail out Southern Rock shortly before Banks began to splurge on UKIP. Where that money came from is unknown. The Labour MP Ben Bradshaw has asked questions in the House, calling upon Banks to explain the source of his wealth and the Electoral Commission is now investigating the same thing. Companies House has demanded that ICS publish its accounts – Banks' response seems to be to liquidate or otherwise remove ICS from CH jurisdiction ( we have been here before with Cambridge Analytica ).
This is, of course, in part because of fears about his links with Russia, a state which seeks to destabilize western democracies in any way it can. Banks'
wife is Russian and he seems extremely friendly with senior Russian officials and businessmen (though his memory of meeting them repeatedly fails him). At least one of his close business associates, Isle of Man based, investor in Russia, James Mellon, benefitted from the sell off of Russian government shares in Alrosa a diamond company – a deal which was also proposed to Mr Banks. Mr Banks is on record as discussing the Trump campaign with high-ranking Russians. How long will it be before he becomes, like Nigel Farage, a person of interest to the FBI?
For it appears that it may be facts from across the pond that might bring all this to a head. So far the CPS doesn't seem interested. It should be. And now what will Parliament do as regards a Referendum result which is irrevocably tainted? Watch this space, things are moving quickly.
Democracy bought is not democracy.
This article is a summary of data gleaned by others, mostly arising from work done by the admirable Carole Cadwalladr, the Guardian and Observer and Peter Geoghegan and Adam Ramsay of OpenDemocracy and others from information provided by whistleblowers Chris Wylie, Shamir Sanni and others. Nonetheless, I can claim to have written about the network of Brexit backers before, see                          If Mrs Merton did tax and Brexit…..
¹Anyone can spend up to £10,000 but, if more is required bodies must register with the Electoral Commission. They must be UK bodies (or have specific exemptions, e.g. Gibraltar). 'Lead' campaigns have a limit of £7m, campaign organisations which are not political parties have a limit of £700,000, other political parties have a limit depending upon vote share. Each participating registered body cannot pool funds or for one body to gift 'their' money to another body. The rules on this, with some useful examples, can be found in the Electoral Commission guidance on working together and what that means for campaign finances. These include the checking and researching into the true source of funding given.