It may have done if you visited the Earth Galleries of the Natural History Museum in South Kensington.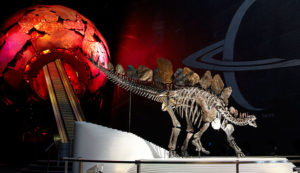 It had been years since I went to the Earth Galleries, accompanying visiting friends who had young children, so I was unprepared for the latest, spectacular incarnation of these halls which were re-opened four years ago in January 2014.
First, the entrance, a hall studded with the constellations of the night sky containing the largest skeleton of a stegasaurus yet found. It is popular for hire, I understand, for evening and dinner events and I am not surprised. From here you ascend a giant escalator into a cavernous, glowing globe into the Earth Galleries.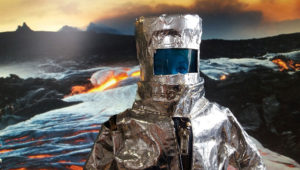 These are full of good things to see, mostly in vitrines, with very good explanations but also stand alone exhibits, like glittering chunks of rock and the silvery emergency suit worn by vulcanologists when they work deep inside the craters of live volcanoes. Lots to learn, even for the adults – for example I was completely unaware of the seven super-volcanoes around the planet; volcanoes, or systems of volcanoes, which are judged to have the capacity for super eruptions i.e. emitting more than 1,000 square kilometres of magma, which would change life on earth.  One of these, it is now thought, did for the dinosaurs. The good news is that they are all closely monitored. The bad news is that they are active, some of them very much so and as recently as 2012.
It is possible however to experience the earth moving in South Ken too. The earthquake simulator, which I remember as being a grey box with a shaky floor, is now a replica of
a Kobe supermarket and recreates an actual earthquake, complete with cracking walls, tumbling tins and video footage shot on the supermarket cameras at the time. Much more immersive and evocative of what an earthquake would actually feel like, it shakes and, beware, there are after shocks too ( as there were in Kobe ) so don't assume that it's over 'til it's over. There is a lot to see and learn in this gallery, including exactly how modern building techniques are used in designing earthquake resistant buildings ( I didn't know ).
The formation and evolution of the planet provides the spine of these halls, though it's impossible to do otherwise than include the wider galaxy. There is a piece of moon rock, brought back by the crew of Apollo 16 and on permanent loan from NASA and, a recent addition (December 2017) a piece of a lunar meteorite found in the Sahara in 1998.
The Earth Galleries or Red Zone will occupy a morning. Try one of the Museum Trails, self-guided tours, which comprise a map and guide which you can follow on your phone ( the Red Zone tour lasts between one and two hours ) and take in the highlights. Try to avoid the school holidays unless you're prepared for huge crowds – even when we went, which was before the break, we encountered several parties of school children – one of the massive benefits of growing up in London is the availability of such treasures and it's all for free.
If you enjoyed reading this article you might like, or find useful, other articles about things to do and places to visit in London, many of them FREE. Try      Down to the sea again….                    Somerset House               Scenes at the Museum               Waterloo