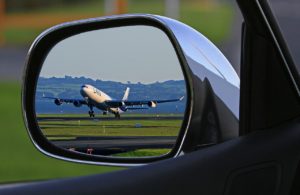 So okay, it doesn't have the same ring as 'Flying Down to Rio', but for me it's just as exciting. I haven't been in this lovely town for over two months, a ridiculously long time ( I'm not usually away for so long ). I have friends and neighbours to meet and catch up with, what's been happening, how is everyone? Then there is the necessary stuff – cleaning and maintenance tasks to do and bills to pay. But, more than anything else, it's so good to just wander around the familiar places taking it all in, all over again. I never tire of walking around these beautiful and ancient streets.
And, of course, it's the Festival de Jerez, so the streets ring with music. Every day, on every trip outside, I can see the departures and arrivals (our 
flat is near Jerez's theatre, the Villamarta, where there are different performers appearing every night during festival fortnight ). When I go to buy my Diario at the local news stand I hear the rehearsals from the theatre nearby.
There are more foreigners in town than at almost any other time of year, except possibly July, and there are certainly more oriental foreigners (flamenco is very popular in the far east). This means remembering to make reservations in restaurants, especially if we want to eat early before a performance. ( Why do tourists insist on eating at seven o'clock regardless of what they are doing that evening? ) The tabancos are full to bursting.
A music-loving friend and I are here for almost the duration, but there are other friends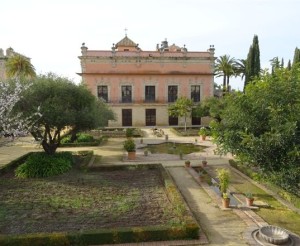 joining us for a long weekend and we have determined our weekend programme to enable them to experience as many different venues as possible. So, we will be in the exquisite Palacio (left) early on Friday night, then to the Gonzales Byass Bodega for  dancing at midday on Saturday and, probably, the Theatre on Saturday evening, to see dancer Farraquito. On Sunday we plan to take the train to Cadiz and the Carnaval, but are also looking forward to a visit to Sala Paul, a converted bodega, in the evening for swing flamenco ( which I find intriguing ). Then on Monday to the Sala Compania, a converted church, to see dancer Maria Moreno.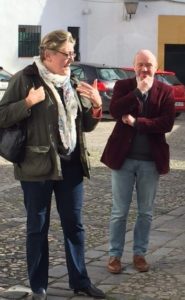 My waistline (not a forgotten concept, if an almost forgotten actuality) will suffer further and I'm afraid my liver will be working overtime, the local wine is too good to ignore (not to mention the sherry for which Jerez is famous). I want to visit all my favourite haunts, as well as doing some sightseeing with my friends ( see right, a photo of my doing just that, being a boring tour guide, last year ).
I will be writing at The Story Bazaar about all the performances which we see and, probably, the art exhibitions and installations around town too ( and, of course, the Carnaval ). Watch this space for reviews and comments as the Festival proceeds and if you want to read about performances past try                              Lamento                      Jazz Guitar                    Reversible