A page of news snippets to start the week.
Clapham Book Festival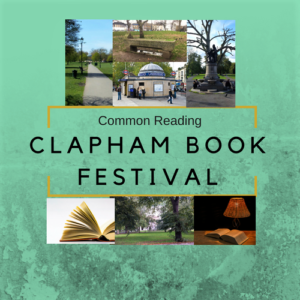 The 2018 Clapham Book Festival will take place on 18th May, a date for the diaries of anyone who can get to London SW4. The venues are Omnibus Theatre and Clapham Library. The Programme will be published early in the New Year, but we envisage a range of events, from author panel discussions, interviews with individual authors, the annual Meet & Greet, a children's event and poetry.
Next year visitors to the Festival might like to walk the Clapham Literary Trail, a self-guided tour leaflet is in production and will be available before the event in local shops and arts venues and on-line.
If you can't make that date, then what about 21st and 22nd July 2018. You might like to come along and hear some Clapham Writers at the Lambeth Country Show taking place at Brockwell Park, SE24.  This is one of the largest free community events in Europe and offers all manner of activities including jousting, a gymkhana, music, a fun fair and its now famous vegetable sculpture competition ( see some photos here ). The figurine of Nigel Farage being hit about the face with a wet fish proved most popular. Exactly what form the Clapham Writers literature events will take is yet to be determined, but watch this space, there will soon be news.
The Story Bazaar Compendium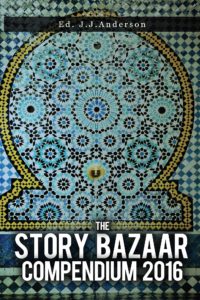 The 2016 Compendium has been available as an 'e'-book for some time but is now available as a paperback book for £8.99 (330 pages). Find it on Amazon here. It includes the  Democracy series and the Referendum Diary and Demagogue's Handbook, as well as reports from The Story Bazaar nomad as she walks the West Highland Way, the Camino Portugues and travels the world looking for a place to settle down. Lesley de Jerez writes about her rural idyll and The Story Bazaar Sailor makes final preparations for her southern ocean sailing. There are articles on things to do and places to see in London and in southern Spain and reports on the very first Clapham Book Festival. An ideal read to dip in and out of during those lazy days over the Christmas period as you look back over the year.
The 2017 Compendium is already in preparation, both as an 'e'-book and a paperback.  This will be forthcoming in early 2018 ( promise ) and will include all readers' favourites.
Other Planned Publications
Reconquista II will be published next year. Originally planned for publication to coincide with the 2018 Book Fest, this is now unlikely to happen at that time and the sequel to Reconquista will appear later in the year.
The collection of short stories entitled Not William formerly available on the Chanillo subscription web-site has now finished its stint on the site and are no longer available, except as individual stories via The Story Bazaar Readers Page or in the Compendium for 2016.  Sign up, if you haven't already, for on-line access to the Compendia, short fiction and, in 2018, poetry, on this page.
Readers have been asking if here would be another Village publication.  Not in 2018, is the answer, but Return to the Village is in gestation, so a second volume will be forthcoming.