Regular readers of this blog may recall my mentioning the Vendimia in Jerez last Autumn and the early music concert which was part of the festivities.  It took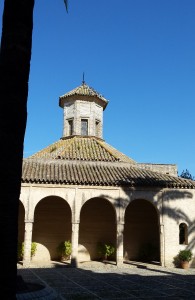 place in the 13th century Capilla de Santa Maria in the Alcazar and some of the medieval songs presented were written by King Alfonso 'El Sabio'.  Since then I have learned rather more about these Cantigas.
The Cantigas de Santa Maria ( Songs of the Holy Mary ) are a cycle of 419 songs devoted to the Virgin, recounting her miraculous interventions in human life, as well as various Marian festivals.  They depict Mary giving practical help to individuals in specific situations and give readers a real feel for everyday medieval existence. They are also sometimes humorous, this Virgin isn't above exposing human frailty through divine trickery, and have a cast which includes every class and caste, demons and the Devil himself.
Of the 419 songs, Alfonso is thought to have written roughly twenty himself, including some of the musical settings, and commissioned others. The earliest of the Cantigas, some 100 songs, were written between 1264 and 1270, when Alfonso was investing, then occupying Jerez and other parts of Al Andalus formerly under the Crown's control.  One is specifically about the King's distress when he learns, in a divinely inspired dream, about the rebellion of Jerez and the loss of the Capilla de Santa Maria.
The titles of some of the songs describe the Virgin as a star ( Alfonso was, as we know, a keen stargazer ), the Virgin is Strela do Mar ( Star of the Sea ) and Strela Madodinna ( Star of the Morning ).  The song which can be heard below is the Strela do Dia ( Star of the Day ).  You can listen to other Cantigas composed by Alfonso here  Some of them are free to download.
The songs survive in four manuscripts or codices. One, the Codice rico ( Rich Codex ) is beautifully illustrated in an array of colours, including the rich blue, derived from lapis lazuli, which became so common in later, renaissance, painting. The Codice de los musicos ( Codex of the Musicians ) includes illustrations of musicians playing a remarkable array of instruments.  The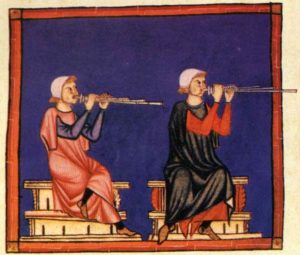 players are, very obviously, both Muslim and Christian. In one illustration ( not shown here ) a Muslim musician is shown, dark-skinned and wearing desert headgear, playing a lute or guitar-like instrument alongside another musician, a fair-haired Christian knight wearing a crown. Between them a small table holds a jug and goblets. Is this supposed to be King Alfonso?  And who is he playing music with?
The songs weren't for the King's private pleasure, they were meant for public performance. They were written in Galician-Portuguese, a 'lyric' language for courtly troubadours ( unlike many other works written or commissioned by Alfonso, which were in Castilian Spanish, not the more usual Latin ).  I don't understand medieval Galician-Portuguese so, I confess, I have read them only in translation into modern Spanish.  If you are interested in performing them try this
link to a web-site which lists scores and notations ( amongst other interesting items ) though you will need to pay for them.
The music is interesting in itself, as are some of the instruments used to play it, in part because the guitar-like instrument has something in common with today's flamenco guitar and medieval Moorish influences are clear in flamenco rhythm and music. Have a listen to the video clip attached to this article – Lamento – about a flamenco performance earlier this year in Jerez, the influence is obvious.  The most common meters used in the Cantigas are, however, the non-flamenco rondeau and the virelai.
Sadly, though many Alfonsine works were widely disseminated during his life and after his death, these Cantigas were not.  Seville Cathedral, where he was buried, took possession of them ( though the more earthy and satirical Cantigas d'escarno e de mal dizer were not claimed, and these were widely circulated, then and later – a copy was owned, in the fifteenth century, by the secretary to Pope Leo X ). The Cantigas de Santa Maria weren't performed for centuries. Happily, they are now.
Learn more about studies of the Cantigas, and what we are still discovering, at the Oxford University web-site specifically devoted to the project here.
If you enjoyed reading this article you might also enjoy               The Wrong Saint                      Provender           Sherry wine, dancing and song          The painting formerly known as….