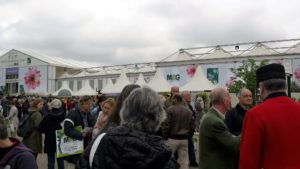 By tradition, the RHS Chelsea Flower Show heralds the start of the English Summer and the London 'season'.   The Lords Test Match begins on 9th June ( late this year ), the Royal Academy Summer exhibition on 13th June, Wimbledon on 27th and Henley Regatta on 29th. Also by tradition, the weather is variable.
So, on Wednesday, it was chilly and cloud-covered, but our spirits were not dampened. The arrival of my early starting group, from Winchester and Devon, meant croissants and coffee before braving the crowds around the show gardens. The Harrods 'British Eccentrics' Garden by TV gardener Diarmuid Gavin was the gardening hors d'oeuvre – a traditionally planted plot of topiary and terracing, around an octagonal folly building, which, every fifteen minutes, 'performed' for the audience.  This involved swirling bay trees, circling herb terraces ( complete with real Chelsea pensioners ) and bouncing box. Quite potty and playful, is probably all one can say.
The 'God's Own County' Garden ( from Yorkshire, for the non-Brits reading this ) was totally dominated by a York stone structure, a sort of outside room, the design of which
echoed that city's Cathedral.  More successful were the coloured glass panels which formed the garden boundary, representing the Cathedral's East Window. A showcase for the county perhaps, yet, despite all the hours of work and fine craft, not a garden to love. Next to it, the 'Cloudy Bay Garden' from New Zealand included another structure, this time of  western red cedar, which also dominated the garden, a planting of grasses and pines around a pool.  Was this year to be the year of the dominant garden building?
Not in the 'L'Occitan Garden', which re-created the landscape of Provence (above). I'm sure I've walked through this arid, perfumed landscape before, probably when visiting the south of France.  This was a very popular garden. There were no formal buildings in the 'Telegraph Garden' either, though there were modern bronzes and chunks of stone (left). This, the winner of 'Best in Show', was beautifully planted with the tall and spiky as well as the low and fragrant, plants from semi-arid regions.  Something of a theme emerging there then.
More monumentality in stone in the 'M & G Garden' a contemporary take on the landscape of Exmoor, with an oak theme. And another recurring material, copper, in the Winton 'Beauty of Mathematics Garden' with an etched copper band which featured as stair bannister in an open garden structure, a garden bench and a planter.  Lots of copper too in the Australian 'Husqvara Garden' (below right) – copper channels for running water and a copper and bronze wildlife sculpture – with a sunken lawn and 'floating' cubes of Carpinus giving a more formal feel to
this garden. This was one of my favourites.
Another favourite, and one which may be easier to replicate, was the 'Modern Apothecary Garden' for St John's Hospice. The centrepiece was a low, round water bowl in a terrace, set around with benches amid herbs and flowers, which in turn is surrounded by a fragrant lawn of camomile, chicory, burnet and sorrel. The garden is overseen by a sculpture of Aesclepius' snake-entwined staff of healing.
On the way to see the poppies, there was also the Morgan Stanley 'Garden for Great Ormond Street Hospital', also something one might emulate and, less easy to copy, the 'Chelsea Barracks Garden' with its smooth lawn and monumental bronze uprights, in-filled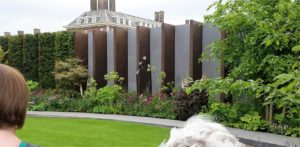 with basalt blocks and hedging (left).  One could just see the Georgian Chelsea Hospital Building beyond.
It was in front of the Hospital building that we went to see the 5000 Poppies Project. Not derivative of, but coterminous with, the
ceramic poppies which overflowed the Tower of London in commemoration of the 100th anniversary of the beginning of the First World War, this project took form in Melbourne, Australia in 2013. Since then thousands of people have knitted and crocheted the 26,000 poppies which form the installation at Chelsea. It was impressive.
The sun was struggling out, there were still gardens to see and we hadn't even been into the Grand Pavilion yet, but the lure of lunch – seafood and champagne, as is traditional with this group of folk – proved too strong and we repaired to the restaurant queue. Within fifteen minutes we were seated at a table over-looking the grounds below deciding on exactly which variation on seafood platter we would choose.  Thus, well fortified, we would continue our day at Chelsea.
If you enjoyed reading this article you might also enjoy              Summer is a-comin' in                   Breaking News – Triffid seen on Circle Line              The Museum at Lords                  An Old Prospect
As usual I'll be posting lots more photographs on Pinterest, which you can see here.