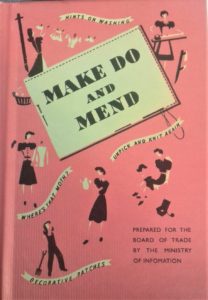 A return to war-time austerity, as opposed to the modern kind, is that just what we need?
It was reading an article in the Sunday paper, in which the writer interviewed people in a Conservative Club in the north of England that set me thinking. 'We managed to feed ourselves during the war' was one comment from a Brexit supporter who clearly believed that everything was going to be fine after the UK leaves the EU and was dismissive of reports that the UK would have difficulty importing sufficient food quickly enough to feed the population as it does now*. I wanted to ask him if he really wanted to return to rationing and have only 2 ounces of butter a week, and £2.30p worth of meat.
WWII is the reference point for so many people of a certain age (judging by the photograph which accompanied the article late 50s early 60s). But these individuals cannot have experienced it, being born well after the war ended, so why is this the 
case? In part it is being brought up in the shadow of the war, as their parents would have experienced and been influenced by it. I remember that. But, while there was, even then, already a certain nostalgia for the shared hardship and ultimate victory, ( something alighted upon by artists Jeremy Deller and Scott King, see Conversation at the Horse Hospital ) there was not, in my experience, any wish to re-visit those conditions.  It was bad and it was over and there were good times coming again, so everyone moved on and gladly.
I do remember those endlessly repeated 1950s war films filling the TV schedules (propaganda after the fact). It's also clear that parts of today's media hark back relentlessly, through rose-tinted spectacles, to those war-time days, as if Britain has had nothing to be proud of since. It seems that the period including WWII and the decade which followed has become the emotional 'safe space' for those who want to escape the complexity and change of modern life.  Like the home for dementia patients recently opened in a northern English town which is laid out like a 1950s provincial town, complete with High Street. There is, apparently, clinical justification for this, as those suffering from dementia are more able to remember their early years and feel more secure and, therefore, happier in surroundings
resembling those of that time.
This reminds me of The Blitz Spirit a short story by Kim Newman in The Time Out Book of London Stories (Penguin, 1993). The collection was published to celebrate twenty-five years of Time Out and it contained stories by Will Self, Hilary Mantel, Charlie Higson, Julie Birchill and others. But The Blitz Spirit is set in a future London which has become a theme park of the London of the Blitz, complete with bombs and rationing, a reversion, by choice, to the past.  Did Newman spot something the rest of us are only now beginning to notice and take seriously?
For more on books try                    Short Stories                                 Novels Historical                   Two Novels Historical
*In 1939 at the outbreak of WWII the UK, population 50m. was importing 70% of cheese, sugar, cereal and fats, 80% of fruit and over 50% of its meat. Today the UK, population  64m+, imports over 50% of food generally and DEFRA's self-sufficiency ratio which measures the ratio of UK produced food to imported food, has been dropping, from 87% in 1990 to 68% in 2012, so  not such good news, but not an insurmountable problem. Though there is the dependence of certain agricultural sectors on EU workers to harvest crops.  Rationing anyone?