…is the name of a new, free, exhibition at the Mile End Art Pavilion in East London.
Based on the work coming out of Hubbub, a two year residency at the Wellcome Collection by fifty international artists, writers, social scientists, broadcasters, humanities researchers, scientists and mental health experts, all of whom considered rest, stress, noise and the mind.  The residency was sponsored by the Wellcome and led by Durham University. Listeners to Radio 4's 'All in the Mind'  may have heard Hubbub's Claudia Hammond presenting the results of the world's largest survey of the subjective experiences of rest, recently, to launch the exhibition. We went along last week.
This was my first visit to this gallery and I was impressed. It sits not far from the Green Bridge in the linear Mile End Park, East London, near to the newly developed space around Regents Canal.  It is a long, light space with one, full length sloping glass wall and sky-lights in its turf roof. It is used for all sorts of exhibitions as well as being a popular, hired, venue for weddings, celebrations and conferences. It looks out upon its own mini lake complete with ducks and duck houses.
The exhibition, however, I found less engaging and something of a curate's egg. This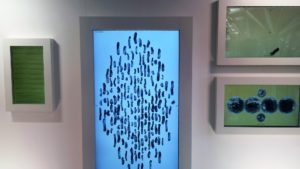 was highly conceptual, mostly installation art, much of which was interactive and some of which impressed.  I liked Josh Berson and LUSTlab's 'Cartographies of Rest: The Spectral Envelope of Activity and Mood' (now there's a title for a piece of conceptual art if ever there was one). It's an interactive piece using sound, light, science, recorded emotion and location and yes, it does sound complex, but it's actually not.
In 'Cubiculum' by Hilary Powell, Hazel Morrison and Felicity Callard the predominant sense is sound. Within a curtained off booth one listens to music and readings of various sorts. There is Coleridge's 'Frost at Midnight', with commentary. (Why, it's superfluous and, given that it adds little or nothing to an already evocative poem, seems somewhat condescending?) There are excerpts from Freud's discussions about patient Anna O and lovely plainsong plays beneath 
the spoken thoughts of an eleventh century Canterbury monk visiting the shrine of Saint Osbert. I didn't listen to all of the options, I didn't have sufficient time, but that, in itself made me think about how hurried I was being and made me slow down.
The Pavilion space is used well in the sense that it is all used, even the large glass windows have 'The Lathe Had Stopped…' placed on them, an artwork by the poet James Wilkes. The gallery's bench cushions are covered with fabric designed to reflect the vocabulary of
Rest derived from the aforementioned survey. The lake outside hosts solar-powered 'hidden' objects, which are visible as dusk falls, unfortunately invisible in ordinary daylight, entitled 'The Floating Thirty Nine' by Patrick Coyle. But the wooden constructions which hold video screens and head sets and their lay-out within the gallery are not particularly pleasing to the eye or the mind.  This could, with a bit more thought and/or money, be better done.
Nina Garthwaite's 'Default Mode Radio Network', a radio studio with a live feed of interviews, didn't
seem to be working when we were there, though Christian Nold's 'Prototyping a new Heathrow Airport' was – with live streams from near Heathrow and from Camberwell (which sounded suspiciously like our own back garden which, I guess, is part of the point).  There is some interesting stuff here, though not best served in this lay-out and, sometimes, not curated properly – the Garthwaite wasn't the only piece which wasn't working.
The exhibition is free and it runs until 30th October 2016.  The nearest tube station is Mile End (Central, District and Hammersmith & City lines), turn left outside the station, cross over Eric Street, cross over at the traffic lights right onto Grove Road, the Park is to the left off Grove Road and the Pavilion is sign-posted.  The book which accompanies the exhibition  is 'The Restless Compendium', edited by Callard, Staines & Wilkes ( Palgrave Macmillan, £14.99 ).
If you enjoyed reading this article you might also enjoy                   Salt & Stones                  Switch House Exhibits              Georgia O'Keeffe          Daydreaming with Kubrick                      Battle Art             A South London Gem