'Living Cities' and 'Between Objects and Architecture' are two of the current free exhibitions at the S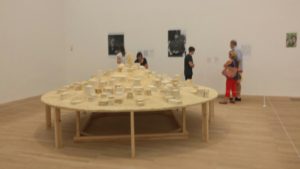 witch House, Tate Modern ( Southwark tube, Jubilee Line ) which are well worth a visit. Found on Level Two, both show works from the Tate standing collection and both are interesting and engaging.
The first holds varied examples of how modern art has rendered the city. From the almost abstract, three-D table sculpture 'Untitled ('Ghardaia')' by Kadar Attia to Marwan Rechmaoui's flat floor-level representation in rubber of the aerial map of Beirut.  The Attia, made of cooked cous-cous, is a scale model of Ghardaia in the M'zab valley, Algeria and it brings to mind ancient, timeless, almost biblical cities.  But the portraits which accompany it, of Corbusier and Pouillon, give it another dimension, of the French engagement in Algeria. The Rechmaoui seems much more modern, though Beirut is very old. His piece focuses more, I think. on representing this particular city, criss-crossed by Green Lines and other frontiers through-out history, as one without demarcations.
I also liked Julie Mehretu's 'Mogamma Part 3' one of a series of very large works taking the name of a government building in Tahir Square, Cairo, but depicting not just the skeleton and facade of that building, but other sites of insurrection and revolution, such as Zuccotti Park, New York, the site of the Occupy sit-in.
My favourite piece, however, was to be found in 'Between Objects and Architecture'.  Yayoi Kusama's 'The Passing Winter' was a Tardis like box which really does seem bigger on the inside. Made of glass and mirrors this fragile creation enticed folk to look through its peep holes only to see reflections of reflections into infinity.  We visited on a uniformly sunny day, but, I am told, the mirrored dots and surfaces take on changing colours if the daylight changes. So, one to go and see again, on a day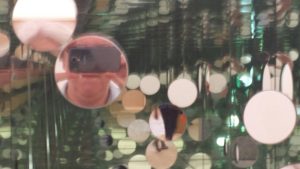 with passing clouds or at sunset.
It also made me recall Van Hoogstraten's Perspective Box in the National Gallery, another box which distorts space, but from the mid-seventeenth century. Like the Van Hoogstraten, I think the Kusama will become a popular favourite.
The Kusama wasn't the only work which invited greater interaction from the viewer. Some enthusiastic youngsters were busy 'camping' inside Brazilian Ricardo Basbaum's bed cages ( which is what they are designed to provoke ).  I found it very difficult to prevent myself from reaching out to touch the foam fountain ( I didn't get the name of this
work ) which formed and reformed shapes and I was both attracted and repelled by the hanging sculpture of tubes and blobs in one corner of the room ( see both right ).
I wasn't particularly impressed by some works – the air conditioning piece left me cold, as air conditioning often does (groan) – but, on the whole, I enjoyed these two exhibitions very much.  So did folk who were viewing on the day we were there.
Tate Modern can be approached from Bankside ( Waterloo or London Bridge then walk along the river ) or from Sumner Street ( Southwark Tube, Jubilee Line ).  Entrance is free. Information can be found on the Gallery's web-site.
If you enjoyed reading this article you might also enjoy              Frank Auerbach                Barbara Hepworth                  Eric Ravilious                 Day-dreaming with Stanley Kubrick