…but for whom?
For the self-styled 'Bad Boys of Brexit'? Certainly, as the DCMS select committee publishes its first report (another follows in the Autumn ) and finds that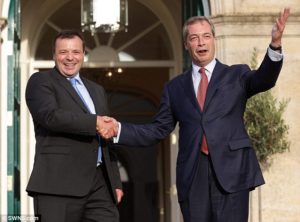 the source of the funds Aaron Banks pumped into the leave campaign should be investigated as should his links with Russia – by the National Crime Agency. ( See Democracy bought is not democracy ) In addition, the committee recommends the investigation of SCL Elections, parent company of hastily wound up Cambridge Analytica and in administration, and its major creditor Emerdata Ltd ( to the tune of £6.3m ). Directors of Emerdata include Jennifer and Rebekah Mercer daughter of the U.S. computer scientist, hedge fund manager and right-wing activist Robert Mercer, who funds Breitbart News, Donald Trump and was the main investor in Cambridge Analytica. Until March 2018 they also included Alexander Nix, former CEO of Cambridge Analytica. Emerdata looks like a pheonix company to me, though it's not just tax it would be avoiding.
For Micheal Gove and Boris Johnson, as their role in Vote Leave's antics again come under scrutiny, in particular the breaking of the cross party agreement that, following the murder of Jo Cox MP by a right-wing extremist, all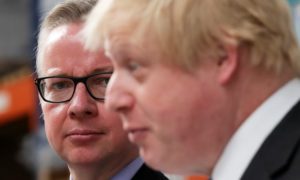 campaigning should cease for three days.  Publicly this is what Vote Leave said it would do, but whistle-blower Shahmir Sanni has released screenshots showing that senior people in Vote Leave, BeLeave and AIQ – the Canadian company which worked closely with Cambridge Analytica – approved advertising for the day after the murder. Facebook has finally released copies of the ads to the DCMS committee, which has made the ads public.  Gove and Johnson weren't named in the e-mails, but Sanni has said that Dominic Cummings, campaign director of Vote Leave and currently an aide at No. 10, was party to the advertising. He was in regular contact with the leading politicians, especially Gove, and has attitude and behaviour has prompted scathing comments from the DCMS committee. The Chair of the committee has suggested that a 'fit and proper person' test be introduced against which directors of political campaigns must be measured in future, possibly with Cummings in mind.
The ads are worthy of comment too. Many were not identified as being funded by a political campaign, were specifically targeted at individuals identified by the Cambridge Analytica profiling techniques using the purloined Facebook data and are particularly toxic in tone and misleading (more on these later). Tom Watson MP has called on both Gove and Johnson to say what they knew of all this (and Watson is not an MP to give up in a fight). To date both have declined to answer or make themselves available to do so.
For the UK.  It is now only eight months until the March 2019 date, two years after the invoking of Article 50, and the date when the UK leaves the EU.  It is apparent that the government still doesn't have an agreed position, other than one of crashing out without a deal, the option preferred by the extreme right wing of the Tory party led by Jacob Rees Mogg. Of course all he and his wealthy cronies need do is block and wreck any other option, something which they have done admirably well so far.  The UK hasn't even put full proposals to the 27 EU member states yet. It is due to do so by October.
So what will happen in March 2019 if the government fails to circumvent the blockers?  Does anyone really know?  Will the planes continue to fly? Will we run out of insulin? But wait, didn't we sign up to the transition arrangements in March earlier this year which run until 2021 and don't we have a 'fall-back' arrangement, agreed back in late Autumn/Winter last year, saying that, if all else failed, we would continue in complete alignment with EU regulations and have freedom of movement?  Yes, but what about tariff free trade?
And when will the grown-ups acknowledge that the whole Referendum was dodgy and the result purchased and have a free and fair vote, not polluted by dirty tricks and foreign money.  When is Parliament going to act? Though it might start by endorsing and enacting the recommendations of the DCMS committee.
For more on the referendum and after                             Mrs Merton does tax and Brexit                      Criminal proceedings               Disenfranchisement                      Another public vote