My nomadic existence began, not from a desire to be homeless but from a desire to figure out where I wanted to be.
I am a Cancerian after all, a home loving water creature that likes to be in a shell. Well at least that's what I understood until this last week at an astrology retreat in Gozo. I found out that our characters are the outcome of MUCH more complicated determinants than that. For instance…
…with my mid-heaven in Scorpio and Pluto in Leo in my seventh house square Saturn I should make for an engaging therapist, particularly on a one to one basis; I should also be good at manifesting ancient wisdom, I'm structured and disciplined. My moon in Gemini,
however, can be a bit disastrous in terms of relationships with my mother. All fascinating stuff, but I digress.
Anyway, this nomadic existence began on a whim when my son took off on a sabbatical and I decided to do likewise. I had moved to London temporarily two years ago after resigning from what was a fairly lucrative career – driven to do 'other stuff', as so many of us are (there is another astrological reason that this 'drive' happens that I won't go into now). I knew that I didn't want to stay in London, though an amazing city with incredible history, arts, architecture… it is ( or was anyway ) one of the most polluted cities in Europe, only, apparently, able to attain to legal standards by 2025 (see link ).
Anyway, for two years I have been striking places off the list – Brighton, Skye, various parts of Spain,
Portugal… A reasonably long list of places where I know I don't want to be.
So, I visited Winchester in August, the UK's "best place to live", according to the Sunday Times. "Once home to King Alfred, and now home to many fine gourmet restaurants." Crime rates, presumably low ones, are also considered in the criteria. I was a bit surprised then to witness a bloody fight at 8am on a Monday morning in the city's High Street.
As it happens, I had also visited a good friend in Norwich in July. Like Winchester, and, I guess, all old cities,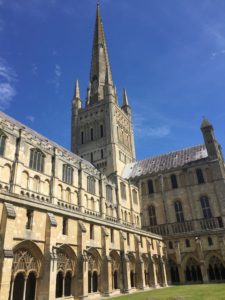 the cathedral is spectacular and the river walks invigorating. But in marked contrast to an overall disquieting ambience in Winchester I was struck by a warm and inviting atmosphere in Norwich. Turns out that Norwich, according to the Telegraph, is the 13th friendliest place to live in the UK.
Could it be, I wondered, that there is a reverberation from two influential women remaining in these two great cities? Queen Mary, aka Bloody Mary, is remembered for her sadistic tendencies – she married King Philip in Winchester. St Julian of Norwich, on the other hand, is known for her Revelations of Divine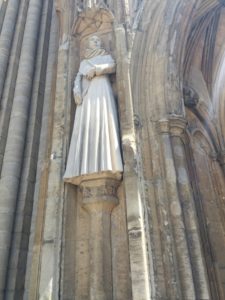 Love.
Life, undoubtedly, is interesting… my quest to locate a new shell continues.
If you enjoyed reading this article you might also enjoy         The Nomad            Inside out on the Camino             West Highland Way            Baring All
To read about another influential woman, Queen Eleanor of England and Castile, who lived in Winchester try  Royal Siblings