Praise for 'The Village'
'What a superb first publication, I look forward to many more titles.'   Independent book reviewer
'The Village' is beautifully written and intricately plotted. Family histories and ties are gradually revealed. Above all, the stories are told with humour, insight and compassion' Amazon review.
'Warm, engaging and life affirming. I can't wait for more.' Amazon review.
The prose is clear and crisp, and the build towards the last story is subtly done, with many threads coming together for an exciting climax.' Amazon reviewer & Kindle best-selling author
'I'm in love with these short stories!' Bookidote, independent book reviewer
'A tour de force…. ' Amazon review
'This book is good, really good. [Anderson] catches and expresses beautifully the fleeting half-thoughts that make up so much of our lives, making us uniquely ourselves.' Amazon review
'I was totally absorbed in this book from page one. I look forward very much to further works by this author.'  Amazon review
'More Harper Valley than Peyton Place, JJ Anderson's depiction of life in a small English village is both lovely and resplendent.' Independent Book Reviewer
*     *     *     *     *     Five stars on Amazon
*     *     *     *     *     Five stars on Goodreads
The Village; A Year in Twelve Tales
It is New Year in the village. A father and son visit a car boot sale and find a mysterious link to their past. In Spring a young boy is entranced by the magic of nature as he chases a hare.  The countryside bursts into flower and leaf, but a marriage splutters in its death throes beginning with a terrifying drive.  At Maytime an old rivalry is rekindled by a gardening competition.
There is skull-duggery and cruel ambition at the Summer fete, but the influx of workers for the fruit harvest sees real violence erupt.  Harvest month brings both birth and death.  In the Autumn the fourth estate and the law entangle as some villagers try to do the right thing, while a young woman takes her future into her own hands.  As the year grows old, a village newcomer learns the power of gossip and the importance of first impressions. The year ends in drama and distress and the villagers celebrate the solstice mindful of the preciousness of their loved ones and their everyday lives.
Four generations of the Marshall family navigate the hazards of family life as babies are born, plots are hatched, matches are made and marriages founder and death, both anticipated and unlooked-for, pays a call.
J.J.Anderson's first publication is available as an e-book, price £2.12 or printed book price £7.99 at Amazon, and via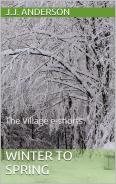 ~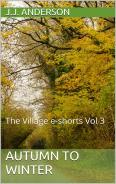 Kindle Select.   It is also available as three 'e-shorts' at 99p each and, exclusive to Audible, Amazon and itunes is available as an audio-book – cost £13.55, running time 8 hours and 22 minutes.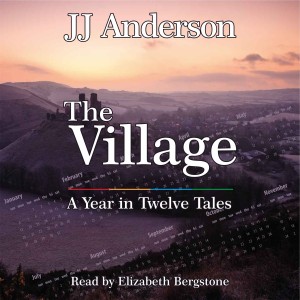 If you have any questions contact us on thestorybazaar@gmail.com or use the contact forms on this web-site.