It's interesting how we tend to converse with one another about the machinations of time. "Where on earth did the time go?" We often wonder; or feel bemused by how other, not such long gone, events seem like eons away.
The twenty-eighth of February marked the anniversary of when I last closed the door on my London abode. A full year gone since the tenants moved in. On a bit of a whim, I had signed the contract, and there was no going back. Well there almost was, after a bit of a wobble and I pondered the possibility of rescuing my home. But I persevered, kept on going. Such a long time ago these moments now appear in my mind.
I breathed, of course, in workshops that I lead in Chennai, Dubai, London, Muscat… Spontaneously taught others along the way in Abu Dhabi, Corsica, Durham, Portugal, Skye, Spain and Scotland. I had my first ever
experience of 'magic mushrooms' at a friend's place in Galicia, the whole world became an incredible, colourful fractal. I enjoyed a liberating month at a naturist resort in Corsica with another beautiful friend. I studied the stars in Gozo and Malta. I saw two beautiful friends married in India, their love for each other inspiring. I meditated at Samye Linge Buddhist monastery in Scotland, I volunteered at the Vipassana meditation centre in Hereford. I looked after a friend's cat in London and another family's cats in Bath. I spent time with good friends in Jerez, Norwich, Somerset… I formed incredibly strong bonds with new friends at a leadership course in
Sitges.
What have I learned I wonder now?
I continue to be amazed by my three wonderful 'children', accepting of me turning up on their doorsteps to ponder what next. Fantastic friends whose many beds and couches have supported me on the way. The warmth also of strangers has strengthened my faith in a positive future. A heartfelt thank goes out to each and every one
I have truly felt the burden of having too much, walking the Caminos with everything you have on your back is a testament to that. I struggled with squashing my ego, as I made up efficient ways to clean the toilets in my volunteering stints ( Where Next? ).
I am learning to be more accepting of positive feedback, to realise that I can and do make a difference, so many of the people who I have interacted with on this journey have told me how I have been a positive influence for change in their lives.
I'm learning to embrace, rather than run away, from my fears – realising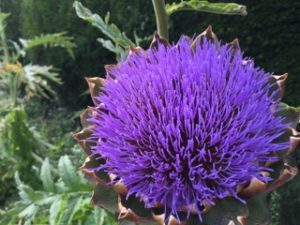 that the trembling I felt in every cell of my body, from atop a telegraph pole I had to convince myself to jump from, taught me that.
I learned how to take the time to look around me, to feel the wind, to smell the forests, to watch the moon and the sun… Even from the plane, to be amazed at places that I was passing over.
This journey was prompted, in part, by the fact that I don't know where I want to be. That is still a mystery. Well, life is a journey, this last year has certainly been that. On it continues…
Read more about Barbara's nomadic year as she walks the West Highland Way ( A Lone Sheep, April First ), the Camino Portugues ( Inside Out on the Camino, Santiago de Compostela ) visits India ( Incredible India ) or Corsica ( Baring All ).