… Bacon, Freud and a Century of Painting Life is the name of Tate Britain's current exhibition, which ends later this month.
It focuses on the painting of the human form and its relation to life around it. Stretching from Walter Sickert in the early twentieth century through to the present day, it consists of eleven large rooms and includes such other luminaries as Auerbach (see Frank Auerbach), Spencer, Bacon, Giacometti, Rego, Freud and Kitaj, as well as Sir William Coldstream's group at the Slade and David Bomberg's at the Borough Polytechnic. Broadly chronological, from Room I which is early twentieth century, the emphasis is actually post WWII.  All the artists were based, for large parts of their lives, in London.
I wondered, before I went to see this exhibition last week, if so much of the human form would be too much of a good thing. It isn't. There is sufficient variation of style and approach to offer a fascinating glimpse into the many ways in which artists in London approached painting the body.  And it isn't just nudes, some of the best portraits aren't nude at all – for example 'The Big Man' and 'Bella' by Lucien Freud and the Paula Regos, the subjects of all of which were clothed.
Francis Bacon didn't fit into any category, as always. His pictures looked even more like disturbing dream images than ever, when put beside other works here, which were, more or less, representational.  The only abstracts were Leon Kossoff's.  I was a little perplexed by there being only one Auerbach portrait included, the Tate has several, the curator choosing instead to include several of his London cityscapes, alongside those by Kossoff. Exigency perhaps, to fit the Kossoff's in?  I get that the show is about the human form in its environment, but I, personally, wouldn't have chosen
these particular paintings (though I like Auerbach's city pictures).
I hadn't seen a lot of Paula Rego pictures together before, just single paintings, which now seems a terrible omission. So I found Room 10 very interesting. Her paintings of women are expertly done and often unnerving. What are those women doing to that man in The Family? Why is a man in a kilt/skirt lying smiling on a couch surrounded by women in The Company of Women? I will puzzle over her triptych after Hogarth's Marriage a la Mode for many an hour and keep my eyes open for any forthcoming shows of her work.
I also hadn't come across the newer artists in the final room, but was impressed by the giant self-portrait by Jenny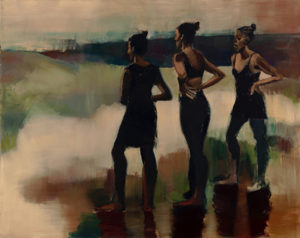 Saville and Lynette Yiadom-Boakye's works, especially Blood Soaked South.  I will look out for both in future.
All Too Human is at Tate Britain until 27th August 2018. Tickets cost £17 if booked in advance (£16 concessions). It's worth a visit.
For more articles on art and exhibitions try            Frida Kahlo                The Jameel Prize              Picasso 1932                  Lin Mae Saeed Bees