I awoke to the sound of a Barcelos rooster heralding the dawn of a new day, the third leg on our Camino.  Keen to get started, we took off around 7a.m. headed for Ponte de Lima. The longest, but apparently
most beautiful stage of the journey so far, but, as the guidebook assured us "we [would] have the natural landscape to lift our spirits…nearly half the route through vineyards and woodland and through the peaceful Neiva valley".
And so it was. Absolutely beautiful. The scent of eucalyptus trees; groves and groves of olives; a plethora of vineyards, no doubt to produce what ended up in many of the delicious decantations that would never make it to export shores. I could readily empathise with the need to take life at a relaxed and peaceful pace in these locales. All the people we passed along the way wishing us a bom Camino lifted our spirits just as much, if not more, than our surroundings.  The entire environment bombarded all of our senses.
We had been practising really tuning into our emotions. It became so very evident to me that, while in theory I try to practice a state of equanimity, despite what is happening outside of myself, my mood was very much impacted by my social interactions. The warm and friendly welcome in a small cafe in  the middle of nowhere at 8 a.m. when we stopped for a morning coffee and freshly squeezed orange juice; exuberant greetings from a gardener from a very precarious-looking position – it all had such an impact.
We also had delicious figs, nuts and snacks to keep us fuelled. The sky was blue, the sun was shining, everything was quite perfect. But I was so very glad to see the 'handsome medieval bridge', three hundred metres long and four metres wide, which spanned the River Lima. The many uplifting moments had not saved me from unexpected feelings of exhaustion at the end of the thirty-four kilometre day. We booked into the albergue – usual routine, laundry, shower. Too tired to walk back across the bridge where all was happening, we went to the cafe next door for a Peregrino menu del dia, and were pleasantly surprised by a delicious three course meal, costing a mere six Euros – more expensive now in GBP terms post brexit. I expect.
The next morning I seriously wondered for a while if I would be able to go on. My entire legs were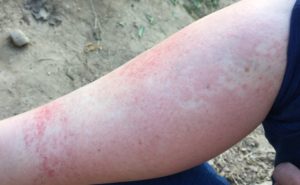 covered crimson red with heat rash. My feet were aching from that half of the walk that had not been through natural landscape and my shoulders were stiff, unaccustomed to carrying a larger backpack than I would in everyday life.
Yet… a German lady in the showers provided me with some soothing balm. I decided the terrain didn't actually require my heavy walking boots and switched to trainers ( grateful that I had some with me ). I culled several items from the contents of my bag. the camaraderie pulled me through and I was soon ready for another, thankfully slightly shorter, day.
If you enjoyed reading this article you might also enjoy other articles by the nomad, Barbara.                  The Nomad                     A Lone Sheep                     April First, West Highland Way              The End of the Way                     Empty Nesters                    Inside out – on the camino                  Vilarinho to Barcelos