No, not Dostoyevsky, but a recent discussion at the Clapham Book Festival. One attendee, a regular at such festivals, said that this was one of the best discussions he'd ever witnessed.
At first glance the pairing of Mark Lawson, broadcaster, critic and author with Vaseem Khan, author and Director of Security & Crime Science at UCL, would not have been an obvious one. Lawson writes acerbic, funny and erudite novels set in the Home Counties which are contemporary social commentaries, though they centre on crimes or alleged crimes. Khan writes about Inspector Chopra, newly retired Inspector of Police in Mumbai, one of the few honest men in a swirling mass of opportunism and graft, and his trusty elephant, after whom his detective agency is named. His series, beginning with The Unexpected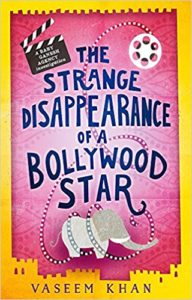 Inheritance of Inspector Chopra, has become a best-seller.
Yet the fiction of both is deeply embedded in the culture of the place where their books are set and both depict the struggle against aspects of that culture. In Mumbai Inspector Chopra fights against venality, corruption and poverty.  Vaseem, who lived in India for 10 years, pointed out that we in the UK frequently complain about the Police, or the NHS or the council – any public body. Yet in Mumbai and many other parts of India, such institutions either don't exist or, where they do, they don't function as they should, for the good of all. A death in custody or malpractice in a hospital is still rare enough in the UK to prompt outrage. In India it wouldn't be remarked on. In short, we don't appreciate how fortunate we are to live in a country such as ours.
Mark Lawson's The Allegations tackles how an individual in the public eye experiences allegations of sexual abuse and rape in the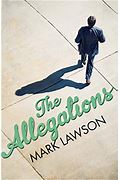 post-Saville age of 'trial by social media' and #Metoo. His hero isn't a pleasant man, the character routinely betrays the trust and love of those nearest to him and, to an extent, it is the stripping away of comfortable assumptions about his behaviour back to the unvarnished truth which has such a long-term impact on him and his relationship with his family and friends. There is also the threat of ruin.
The book chronicles the mental and emotional state of the alleged offender, including his reading the 'literature of false accusations' – Kafka, Roth, Coetzee, Mamet. But it is the line from Arthur Miller's The Crucible which encapsulates one of the questions the book asks.  Are the accusers always holy now? How far this is true was the meaty subject of much of the discussion on 12th May.
Given the power of social media and its immediate and extreme reaction to any allegation, how far are the accused 'found guilty' before any trial?  One has only to look at the speed with which sponsors, supporters, subscribers and employing
institutions scramble to disassociate themselves from any potential wrongdoing (as long as there are no consequences of so doing) to see that an accusation brings a punishment of its own, without the eventual recourse to law.
Then there is #Metoo, which seems to give moral equivalence to actions which, though unwarranted and unpleasant, are not rape or serious sexual abuse. This is part, perhaps, of the enabling energy of a positive movement which has encouraged speaking out, for the first time, for many women who have experienced unwanted attentions, ranging from the socially unacceptable to the criminal. Of course, none of these are acceptable, but they are not equivalent. It also risks confusion, for young men, or gay people of both sexes, who genuinely fear misinterpreting the signals others give them.  It is interesting that, in the book, two people hear, completely differently, words said at the crucial moment.
Prosecution rates for sexual offences have, historically, always been lower than what is widely believed to be the number of incidents. The days when women would not accuse, for fear of character assassination at the hands of defence lawyers applying double standards, and the automatic assumption by institutions was that a woman had to be hysterical or malicious to make such an allegation, are not so far behind us. We don't want to go back there.
Ultimately, though I found his ordeal to be harrowing, I didn't sympathise with Lawson's hero, Ned, he's just too unpleasant and he is a bully. I sympathised more with his friend, Tom, someone who, because of lack of self-awareness and social naiveté, is actually ruined, financially and physically by allegations of bullying, when the institution he works for wants rid of the 'old guard' of employees.
So what to take from the discussion? That life is complicated. That people have to be aware of the impact of their actions and behaviour on those around them, who might not share their views or attitudes.  That we have due process and that due process should be allowed to proceed without encumbrance. There are lots more. It was a very good discussion.
If you want to read more about this year's Clapham Literary Festival why not try                          The Writing Game