Visitors to London, especially foreign visitors, often comment on the amount of green space to be found in the centre of the city.  London has more large parks than many other capital cities – Hyde, Regents, Green, St James', Kensington Gardens – as well as garden squares.  Outside the immediate centre, there are more – Victoria ( London's first Public, as opposed to Royal, Park ), Battersea, Finsbury, Bushey – and the Heaths, Marshes and Commons; then out to the old royal hunting preserves at
Richmond, Greenwich and Kew.  Greenspace Information for Greater London estimates that an astonishing 47% of the capital is green space (not including private gardens).
London residents appreciate and populate these open, green oases (Clapham Common on a hot weekend has very little green visible and is covered with snaking queues for the ice cream vans). But we aren't so good at appreciating the slivers of greenery through which many of us walk every
day.  Sometimes semi-wild places like Camley Street Nature reserve (behind Kings Cross, see Metamorphosis ), sometimes a more manicured space but seen just as a quick route from the tube or bus to the early morning meeting. My own 'green walk' for almost twenty years was through the main section of Victoria Embankment Gardens.
Running from Embankment tube station to the statue of Micheal Faraday outside the Institute of
Engineers & Technology at Waterloo Bridge, these beautifully kept gardens, with their winding path, fountains and statuary were a calm respite. If the number of folk sitting, or sitting and eating their lunchtime sandwiches, last Wednesday was any yardstick, the gardens are still a haven for the harassed office worker.
Thirty seven acres were reclaimed from the River Thames during the 1860s running from Westminster to the City (above the new major sewer) . The main, or Adelphi, gardens form a large part. They have a band area, for daily Summer concerts and giant chess games, two cafes (one very close to the tube) and lots of seats and benches. Mature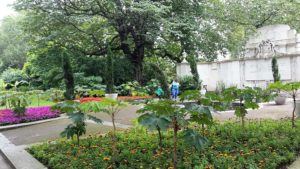 trees along the south border screen the gardens from the traffic along the river, though one can glimpse the ancient Egyptian obelisk commonly called Cleopatra's Needle (c.1450 BCE), through the trees. Just outside the Savoy Hotel entrance is a, useable, fixed table tennis table, near a steel equatorial sundial commemorating Richard D'Oyly Carte, founder of the Savoy Theatre and the D'Oyly Carte Opera Company.
There is a selection of public statuary, including a memorial to Sir Arthur Sullivan (of Gilbert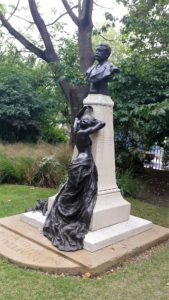 & Sullivan and Savoy Opera fame).  Walking past every day I often wondered why he should be commemorated by a semi-robed distressed and weeping woman. She is, I have since discovered, supposed to be the Muse of Music distraught at her disciple's death.  Why she is half-naked is not known, but I wonder if it isn't a sly reference to bachelor Sullivan's well-attested hearty appetite for the opposite sex.  The bust and figure are by the Welsh sculptor, Sir William Goscombe John (1860 – 1952 ). Beyond the Sullivan memorial the gardens thin down to a point and you exit onto Savoy Place.
If you want a peaceful saunter, amid Londoners, rather than tourists, Victoria Embankment Gardens might be just the place and you can take in a concert or a game of table tennis too.
If you enjoyed reading this article you might also enjoy       A Walk on the Wild Side              Garden in the Sky             London Summer Starts Here            Under Canvas