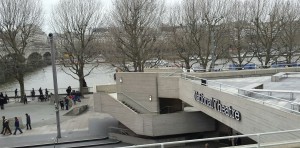 So to the National Theatre's current production of Shakespeare's perennial As You Like It. The Olivier theatre was almost full (it looked like a large party had failed to show up, but otherwise all seats were taken). This production has garnered some excellent reviews, although some have been critical of its conception of Duke Frederick's court. I'm pleased to say that Shakespeare and the play's magic captured us all, but it did have to fight hard at the beginning, no fault of the performers.
I have seen some excellent versions of Shakespeare which benefit from a director's new concepts and ideas, teasing out different aspects of the play.  Moving a play in era, either to today or to a time with a particular resonance to the piece, sometimes illuminates and enhances its central themes.  Similarly, design of setting and costume can prompt insight and a better, or different, understanding.  Here at the National, for example, in the '90s, with Richard III and Macbeth, both starring Sir Ian McKellen. I have also seen some sadly cut about and drowning Shakespeare in which the verse barely holds its head above water, so weighted down with 'concoepts' is the play.
The current production is neither of these, in my view.  There are superb aspects – this version of the Forest of Arden for example. It resembles a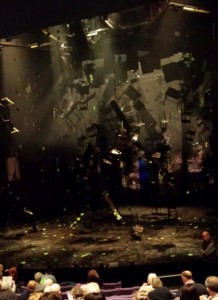 Vorticist painting and is shown to be a cold, sometimes inhospitable, place, the exiled Duke struggles vainly to bring out its virtues when he praises his present life and surroundings. It was easier than usual to believe that someone might lose their way and be close to starving. The winter wind doth truly blow here. The photograph of the unlit stage which I took in the interval doesn't do the set justice.
The natural denizens of this forest are good too.  Audrey, William, Silvius and Pheobe are suitably amusing and unsophisticated in the purlieus of the forest, the tamed pastures. Corin the shepherd doubles very well as Hymen in the final scene of resolution and is wonderfully sonorous and slow with ponderous rustic 'wisdom'.  The sheep are huge fun.  The transplanted court is also good, especially the songs.  I wasn't sure about Jaques because I didn't understand what Paul Chahidi's performance was about, which may be my fault. 'All the world's a stage' was well done, there was absolute stillness and attention in the audience when those words were uttered ( in anticipation or recognition – didn't we all do that speech at school – I couldn't tell, but a palpable change in the audience occurred ).
The principals were excellent. Rosalie Craig as Rosalind and Patsy Ferran as Celia were wonderful, the intimacy and long-standing nature of their friendship obvious. So was Joe Bannister as Orlando, a public-school male version of Celia's leggy grown-up school-girl ( though this undercut Orlando's claim that his brother kept education from him ).  I found his brother Oliver ( Phillip Arditti ) more convincing in the forest than formerly, but I think that was to do with matters other than the performance.

The opening scenes in the court are set in a modern office, with desks, chairs, coloured lino and IT screens.  Members of the company populate it before the play begins, typing at their keyboards and signing papers in triplicate.  A nice touch is to have Orlando as an office cleaner, very much a 'mean employment' and the gesture towards the desk-top pot-plant shrub when referring to the Duke's orchard was fun.  I understand completely the juxtaposition of the faceless, corporate world with the forest and it has its felicities – here everyone truly is in search of 'promotion'. But it has its problems too.
The set has a low 'ceiling' and strip-lighting like so many offices, but only someone unfamiliar with the height of the performing space in the Olivier (and remarkably incurious) could fail to wonder why all that potential wasn't being used. So there is some dissonance from the outset – we want to believe this has a purpose but can't think what it might be, or is this just how the play is going to be performed and, if so, what a waste? Perhaps this was the intention, but, even so, it goes on for too long and is too distracting.
The staging does fit with a juxtaposition of the claustrophobic interior and restrictions of corporate life with the wider, free outdoors, when we eventually move on. Unfortunately it also means that the wrestling scene, complete with dry ice, pounding disco music to accompany the entrance of the fighters and cuba libre costumes, is completely out-of-place.  Saturday's audience certainly didn't 'get' it. Oddly, the actual wrestling between Orlando and Charles was more convincing a bout than I have seen before.
One massive plus with this staging is the transformation from office to forest.  I won't spoil the surprise for anyone about to go and see this production but suffice to say that it is VERY dramatic.  On Saturday, however, it went wrong, resulting in an embarrassed stage manager emerging from the shadows to ask the audience for patience while one element was fixed.  Damp squib.  'By their special effects shall you know them' maybe.  I have seen some amazing theatrical effects in this theatre, using the full height of the performance space.  The angel descending , unexpectedly, in 'Coram Boy' a few years ago brought gasps and cries of amazement and delight from the audience (including from me). The 'under sea' scene in the same production was similarly spell-binding and astonishing, as was the 'fiery earth' opening up in 'The Bacchae'.
I guess this production was trying for something similar and, had it worked, maybe it would have achieved it, but I'm afraid what sprang to my mind was the instruction from Vincent Crummles to Nicholas Nickelby in the eponomous novel. Nicholas should ensure that when he wrote the publicity for the Crummles company's forthcoming performance of 'Romeo & Juliet' to include mention of their fully functioning water pump ( though what part that machinery played in the production is left to the reader to imagine ).
If you enjoyed reading this review you might also like                        Three Days in the Country