This year the Festival de Jerez is in its twentieth year and, to celebrate this anniversary, includes a series of short concerts, by very big flamenco names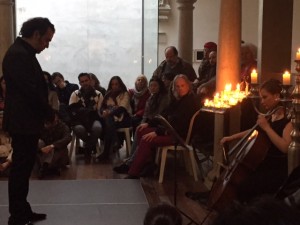 in iconic and historic sites across the city. One such took place last Saturday in the newly refurbished Convento de San Agustin. This baroque gem was, until recently, used as the headquarters of the Jerez Guardia Civilia. Both functions have cells, I suppose. When the police moved the building was left to languish.
Now it has been beautifully restored ( click for video in Spanish ). A lot of the original stonework has been preserved and added to with brushed steel and glass. One week ago, its central courtyard was the setting for Lamento performed by Mercedes Ruiz (dancer), David Lagos (singer), Santiago Lara (guitar) and Debora de la Fuente (cello). For those readers who don't know flamenco, the first three artists in this list all head-lined in their own shows during this year's Festival, while Debora de la Fuente has just returned from an orchestral tour of China.
We were fortunate to have tickets. A full half hour before the performance was due to begin there were people queueing outside for returns and, we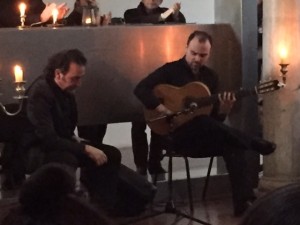 subsequently learned, floorspace. In all there were about one hundred and twenty people around the low stage in the beautiful and intimate candlelit space.
The cellist began the performance, seated between candleabras, playing a contrapuntal, almost classical piece which reminded this listener of Bach. The guitarist took up station seated on the other side of the stage, while David Lagos slowly walked forward to face the cellist. When he began to sing, very quietly, I felt the hairs on the back of my neck rise.
His song increased in volume and intensity, the guitar adding its rhythmic undercurrent and rippling crescendi. Then, as Lagos took his seat, Mercedes Ruiz entered.
Dressed in tight black silk, her hair was pulled back severely from her strong face, the diminutive figure started to dance. Her arms formed sharp angles around her body and above her head as her hands wound in sinuous movement. Then her fingers rapped the castanets. Her feet responded, tapping the same phrase. Then they stamped and rapped, until she seemed to glide across the floor to a constant, rattling rhythm. Her expressive face showed loss and grief as she lifted her long skirt train shawl from the floor and cradled it in her arms.
Feet, castanets, guitar and voice combined with sweeping movement and sharp arabesques. The audience was entranced. This was duende made flesh.
Then it was all over. The dancer's final pose was struck as the guitarist made his final down-stroke and only the cello remained, its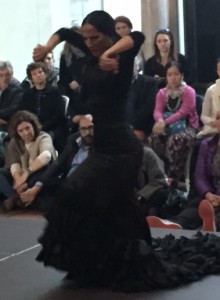 plangent refrain sounding a dying fall. There was a split second of silence, then the courtyard was filled with noise as all the spectators erupted in applause and cheers. The collective breath was exhaled. We had seen an amazing performance by remarkable artists.
As the audience spilled out into the early evening dusk, the sky still pink in the west, we were both exhilarated and emotionally exhausted. What a start to a Saturday night!
The photographs attached to this article are by courtesy of Helen Hughes.  The video below is the official Festival video – it was shot right by where our party was sitting, but it does not capture the atmosphere.
If you enjoyed reading this you might also enjoy      Festival de Jerez Preview          Festival de Jerez II                 Playing Air Guitar
.