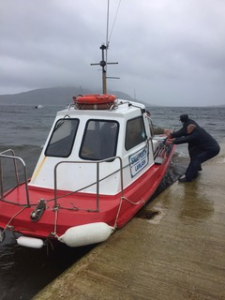 My conclusion after six glorious days on Scotland's Holy Isle…
Just under an hour by train from Glasgow to Ardrossan, ferry then across to the Isle of Arran, and finally, a short boat ride from Lamlash (subject to conducive weather conditions) will get you there. A tiny island looked inhabited by "Eriskay ponies, Soay sheep, Saanen goats, and a rich variety of wildlife".
I was there on a retreat with around thirty cohorts. Waking naturally around five a.m. to the sounds of a choir of birds, a cuckoo's call, in my ken, the most distinctive, I began each morning with a walk around each of the eight stoopas in honour of world peace, as Madeleine, one of the temporary volunteers on the island, had advised me I could do.
Having then admired the varied, shadowy hues cast across the ocean by the rising sun, and despite my trepidation on every occasion, I followed my earnest contemplations on peace with a dip in the 'fresh' Atlantic waters, so clear that the shadows of the surrounding hills were almost as well-defined within the water as without, even catching my own reflection as I took in the abundance of seaweed about to soothe my feet.
No roads on that Holy Land, not a whiff of pesticides, each and every being living life in a natural way, as it was, surely, meant to be.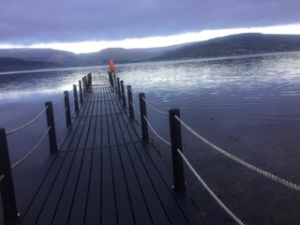 Celtic Christians, as far back as the sixth century apparently sought the solitude of this Isle to support them in prayer and meditation. In somewhat more recent times it had come into the hands of a Mr and Mrs Morris and then in 1990 Mrs Morris was 'instructed' in a dream to pass the Isle to Lama Yeshe, a Tibetan monk of the Rokpa Trust.
Lama Yeshe had always intended to build a centre that would be open to people of all faiths. And that is what he, with the dedication of the many volunteers, has achieved. It is Lama Yeshe's wish that in time, the "Centre will become a focal point for interfaith work, a peaceful refuge in this hectic modern world."
And so I say "Life is Shit"? Well yes, that was my immediate conclusion on emerging from the sublime peace of that tiny island to a so very apparent and quite different cacophony of sounds, sights and smells, the assault on all the senses which is modern life.
But yet, even the shit of life has its uses it struck me. Living in a symbiotic relationship, the wild horses 'maintain' the grounds of the Holy Isle, leaving their natural fertilisers behind; seaweed also used to enrich the soil for the organic produce that goes a long way to feeding the Isles' inhabitants,.
So too, I believe, we can collect the 'shit', the psychological ordure, that has been generated throughout our pasts. Put it all to bed. Move on. The
time is right I believe, to heal our world in readiness for new beginnings.
And so yes I say, "Life is Shit", but let's smile anyway. We are all in it together.
If you enjoyed reading Barbara's latest post you might like to catch up on her previous journeyings at            Inside Out on the Camino                        Santiago de Compostela                          The Orange Walk                     The Lone Sheep                     Incredible India