I was quite upset when I missed the Level 4 mass training session in August, when all twelve yachts were out for a week, racing each other. It would have been a great chance to sail with my skipper, Ash, and meet more of my crew mates. But my Dad had been taken really ill a few days before the training was to begin and I wanted to be with him and my family at a difficult time. So it was with excitement, but some trepidation, that I headed to Gosport for my final days training with Clipper, some time after my fellow crew members.
It was a beautiful, mild sunny day when I arrived. I  was early, so I decided to have a big breakfast before joining the boat. I had been scanning the weather and shipping forecasts over the preceding days to see what conditions would be like and it seemed very changeable, but this was a good start.  Our skipper for the training was Matt, who had taken part in the 2013/14 race, so had lots of experience. Our crew was international, some people had travelled a long way and were doing all four sessions of training in one go. There was Tom from the US, Andy from Canada and Harry from South Africa. When we set off, some of us wearing shorts, little did we know that our main topic of conversation was going to be vomit, and not just related to sea-sickness either.
It felt great to be back on a Clipper boat, but slightly odd that I was still training while my crewmates were out there in the Atlantic racing down to Rio.  For the first couple of sunny days we reminded ourselves how to do all the various evolutions – Yankee 3 sail up, Yankee 3 sail down and Yankee 2 sail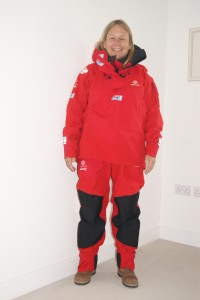 up, reef the Main sail and so on. It  been a few months, but I was pleased with how much was coming back to me.
By Day 3 we were on the watch system – six hours on and six hours off in the day and four hours on and four off at night. The plan was to cross the Channel and then head back to Portland and Solent. As soon as we got into the Channel the weather turned interesting, winds force 5 to 7 and a bigger sea state. A few people felt sick. Sea sickness affects different people in different ways. Some are floored by it, while others carry on, but have to lean over the side and vomit occasionally. Helming the boat while the folk in front of you are winching… and vomiting..is interesting.
It was late in the evening when we got to France and the wind was blowing harder. We turned around for Portland and headed back across the Channel. By the 3 a.m. watch change the sea was rough and the wind was gusting up to force 8. It was my turn to provide food and I decided that everyone would welcome a bacon roll. With the boat moving around so much I knew that cooking was going to be a challenge, but I headed for the galley.  Then I discovered that a bottle of olive oil had fallen and spilled all over the floor. I felt like Bambi on an ice rink as I slid round, desperately holding on with one hand as I grilled bacon and cut rolls with the other, the boat heeling over. Eventually I found a small tea towel to stand on, which didn't move….much.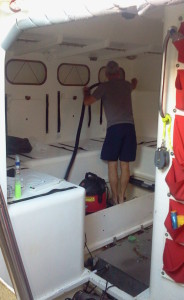 I was exhausted and really needed to sleep, but I was determined to make those rolls. When you know how hard your crew mates are working and that they are looking forward to some hot food, you go the extra mile. I can't wait to do that on the race itself.
As we got into the Solent the wind died down, but it appeared that Matt, the skipper, was ill. He had a very nasty bug. As you can imagine, bugs go round a boat faster than you can say vomit, so we struck out for Gosport to off-load Matt. As we tied up, Vicky started to show symptoms, so we were all wondering when we would start to feel queasy.  We were fortunate, however, only those two people were unlucky and the rest of the training passed without incident. Though we had lots of conversations about vomiting.
The final day we spent doing a deep clean, an essential few hours when everything is cleaned within an inch of its life. It's very important to keep the boat clean and, with fantastic organisation, we managed to do it in under three hours – a record for me.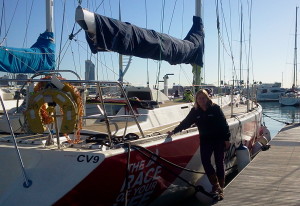 So that was it. No more training. The Southern Ocean next. And ready? Well, I hope so.
If you enjoyed reading this article you might also like                          Trust                           Sadness & Determination                         Naming Day