Where can a writer get to see 1930s interiors, of back to back city terraces and in middle class villas? What about the post WWII bombed out streets of London, or those same streets, almost car-less, in the 1960s? In old films and TV programmes, that's where.
I regularly check out the excellent Talking Pictures channel, to find the hidden gems of, mainly, British cinema as celebrated in Linda Grant's article yesterday in the Observer ( here, if you missed it ). It's a terrestrial channel, so you don't have to pay ( to be found on Freeview, Freesat, Virgin and Sky ). Word about it is spreading fast, after a slow start and I know several writers who watch it, as much for the possible source material as for the films themselves.
In some ways it's a 'curl up with a hot cup of  tea and a biscuit in the afternoon' type of channel, as Grant's article says, taking one back to that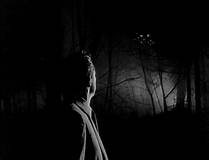 emotional safe space which I wrote about in Make Do and Mend.  But it also shows some super, classic films. So Jacques Tourneur's Night of the Demon (1957) which is based on an MR James story, is showing this Halloween. Starring Dana Andrews, this was called Curse of the Demon in the US. In all fairness I must also state that it's also showing Old Mother Riley Meets the Vampire (1952) earlier in the day. Ho hum.
Nor must you pay for London Live, though that channel shows more mixed programming, always about London,  you can
often find a black and white treasure like The Arsenal Stadium Mystery (1939). As you can see from a copy of the film poster, left, this, like many old 'archive' movies, is now available on DVD.  But they are not cheap, I recently bought Green For Danger, a 1946 Alistair Sim war-time 'whodunnit' which cost the same price as a recent release.   Likewise the rarely shown, but intriguing Powell and Pressburger Canterbury Tale.
Archive TV is the other hoard of mid to late twentieth century atmospherics and locations and there are any number of TV channels whose stock in trade is old episodes of former favourites. Randall & Hopkirk Deceased is useful for late 1960s London and the Home Counties ( the original series, not the modern remake ). Never have I seen London streets so empty of traffic ( and that includes driving over Chelsea Bridge at 4 o'clock in the morning ). I suspect the TV series was shot at a similarly early hour.  Even early episodes of The Saint, catch the milieu and style of '60s London (a friend of mine regularly watches this in the South of France).
Those set dressers and stage managers back in the day probably never realised that their work, on what were then contemporary dramas and entertainments, would prove to be such a fertile source of period details for the writer of the future. I will raise a glass to them the next time I watch.
For more on films and writerly inspiration try                         Real to Reel                     The Godmother's Tale