La Vuelta de Espana 2017 is over. That's the last of this year's three-week cycling grand tours. Won by Chris Froome, a Briton out of Africa, in a remarkable double. He also won the Tour de France this year. Winning both has only been done twice before, by Frenchmen Jacques Anquetil and Bernard Hinault in the 1960s and 70s respectively and in those days the Vuelta preceded the Tour, deemed to be the harder race.
This year's Vuelta is also remarkable for the retirement of 
Spanish cyclist Alberto Contador. Probably the outstanding cyclist of his generation, though with one drug ban to his name, Contador is the old guard overlapping the career of Froome, who is the new. The Spaniard has won all three grand tours and much besides. He is adored in his home country and is a favourite of fans everywhere for his swashbuckling attitude and his distinctive style of riding. He was never going to win this final tour, he lost too much time early on, but he has lit up the race since.
Spain had to wait until Saturday before getting a stage win and it was fitting that it was Contador who provided it, on a stage with fearsome mountains ending at the summit of the Angliru, an iconic destination. 
He almost provided a complete fairy tale ending – at one point on the climb he was so far ahead that it looked as though he might get on to the final podium, but it was not to be. So, a minor fairy tale ending only – Spain's first stage win on an iconic climb by their favourite, retiring, rider. But my, was it exciting.
The relationship between Contador and the Spanish public has been a heartwarming aspect of this year's race, with banners along the road side saying 'Thanks for everything' and 'Don't go, Alberto'. It culminated on Sunday on the entry into Madrid when the pelaton hung back, allowing him to ride one lap of the city centre circuit alone, waving goodbye.  Then it was back to racing.
Meanwhile, over at Lord's in north London, the final five-day cricket Test match in the 2017 series also finished, with a victory by England over the West Indies. The match hung in the balance for much of the rain-shortened game, which was the decider in a three match series, but by the end England were in the ascendancy.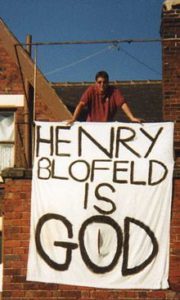 It was marked by another retirement, this time of a commentator. Henry Blofeld has been the voice of cricket since 1963 and especially since he joined Test Match Special in 1972. Blofeld lists as his hobbies outside cricket 'drinking wine', 'eating food' and 'going out' – all of which I heartily approve. Incidentally, his brother went to school with Ian Fleming, and is believed to have given Fleming the name for his Bond super-villain, Ernst Blofeld (played by Donald Pleasance, Telly Savalas and Charles Gray in the Bond films). Henry Blofeld has written numerous books about cricket, as well as his auto-biography. He also has the honour of appearing as a character in The Hitchhiker's Guide to the Galaxy, by Douglas Adams.
I've no doubt that a Contador memoire or autobiography will follow soon. Though at the moment I am enjoying reading Viva La Vuelta!: The Story of Spain's Great Cycle Race (2013) by Lucy Fallon and Adrian Bell, with a Foreword by Sean Kelly. It's a book for lovers of cycling but also a history of a country told through its major annual sporting event. I learned a lot about Spain and her twentieth century history when reading this book, not just cycling and cyclists.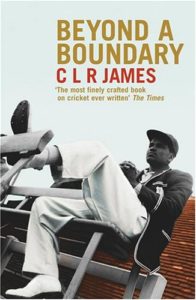 If cycling is attracting fine writers then cricket always has. My favourite cricket book of all time has to be Beyond a Boundary (1963, Hutchinson) by Trinidadian Marxist intellectual and philosopher CLR James. This, like Viva La Vuelta! is not a book just about sport, but interweaves education, national culture, class, race and the process of decolonisation into the art of cricket. It is also a great read. I go back to it regularly and have been known to take it with me to the cricket.
If you enjoyed reading this article you might also enjoy      Parlez Vous Bike?           When is a Tea Towel Not a Tea Towel?          Rain Stopped Play