My 'Godmother's Tale' at Crystal Palace Festival was well received last Saturday, though having listened to all the other storytellers I can see where it could be better. Read it here. I'm not sure I will ever tell it again, as performing stories in public isn't really my thing, but it's worth analysing what works and what doesn't.
So, what have I learned…..?
First, a story has to be told with complete conviction. That doesn't mean that one can't connect with the audience on a number of levels, including humour, but the underlying tale must be the driving force and completely 'real', otherwise the performance becomes a comedy sketch.
Second, keep going – one shouldn't be phased by what's happening around you AKA The Show Must Go On. My session was at five o'clock, the 'dead
slot' between the family afternoon and the adult music-lover evening. So my audience was smaller than earlier in the day (though not so young) and things were quieter generally, so this didn't really apply to me. Some of the professionals who performed earlier carried on despite distraction and provocation ( mainly by children whose behaviour their parents didn't correct ).
Third, one needs to know an existing story inside out and backwards. Not a problem for me with Reconquista, I wrote it, after all. Nor was this a problem for the other vastly experienced tellers – 'though Zoie was improvising from audience suggestions, so had another set of difficulties altogether.
Fourth, a story shouldn't be too complicated, even when the magic is strong upon an audience, they can be left behind and the storyteller has to work to catch them again. I cut huge chunks of my tale after having listened to earlier storytellers and I was glad that I did, because I had enough material anyway, the timing was almost perfect.
Sound helps, though it isn't imperative. Three of the six sessions in the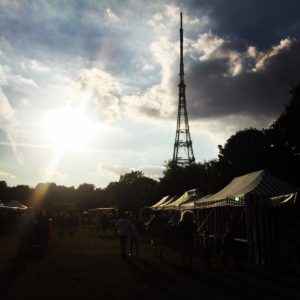 tent had accompanying sound, either live music – played by the storyteller – or background soundscape, digital or live, played by the storyteller's companion. This helped establish atmosphere and added to the complexity of the experience – one wasn't just listening to a voice telling a tale but someone else improvising a setting. I had some bits of sound ( some of which you can find in The Godmother's Tale ).
The Beckenham Storytellers didn't use sound effects at all and, given the traditional nature of their stories, I'm not sure what they would have used, other than some introductory music for each story, from that part of the world where it originated. This didn't detract from the tales at all and people enjoyed and were engaged by them.
Interacting with the audience, by asking them questions, getting people to sing or carry out actions, or seeking suggestions, captures individuals and crowds. A little attention can go a long way, as any teacher will tell you. Zoie wove the character of a beautiful girl with a sparkly flower on her face into the story she was telling – thereafter the girl in the audience with sparkly face paint, who had been fidgeting and annoying others around her, was rapt with attention.
All useful knowledge, but I doubt that I'll have to use it. Though there is talk of a staged reading or adaptation….. we'll see.
For more images of a great Festival day out visit the CPOF Twitter feed. https://twitter.com/CPOFestival
If you enjoyed reading this you might also enjoy other 'learning' articles, such as How NOT to promote a book How NOT to write How NOT to write…. again