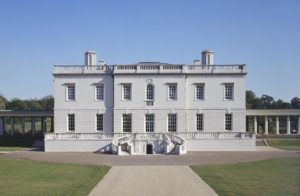 2016 was the 400th anniversary of the very first truly 'classical' building in England – Inigo Jones' Queens House at Greenwich. Built as an apology from King James I to his Queen, Anne of Denmark, supposedly for his swearing when she accidentally killed his dog while hunting, one suspects that the 'wisest fool in Christendom' had rather more to apologise for (his open affairs with various courtiers for example).  Nonetheless, it was and is a magnificent apology.
Anne commissioned Inigo Jones to build it, but never saw the finished structure, as she died before it was completed in 1638.  It was a total break with the red-brick Tudor style which preceded it, which was the style of the existing Tudor palace at Greenwich.  Jones went on to design and build the Banqueting Hall in Whitehall Palace, another Classical masterpiece which can still be seem today.
The House was further embellished by Charles I for his Queen, Henrietta
Maria and their join portrait hangs in her bedchamber, with its ornate ceiling painting.  The Queens House' association with art and artists began early, when the van de Veldes, father and son Dutch masters, were offered a studio in the house in which to live and work during the 17th century. Today there is a first rate collection, including British artists such as Lely, Kneller, Hogarth, Gainsborough, Reynolds, Stubbs and L.S.Lowry and visiting masters such as Rubens, Canaletto, Gentileschi, Holbein and others.  Unsurprisingly the main subjects are the sea and the navy, though there is also quite a lot of portraiture, royal and otherwise.
When the old royal Greenwich Palace was pulled down, to be replaced by Sir Christopher Wren's wonderful Naval Hospital, Queen Mary, its sponsor, asked specifically that the view from the Queen's House to the Thames remain uninterrupted. Thus preserving one of the most iconic vistas in London today, from the Observatory Hill, down to the Queens House and through the towers of the Hospital to the river and the Isle of Dogs beyond.
Greenwich continues the artistic tradition with contemporary pieces (I loved the part painted, part photographed work of the night sky caught
in a wave of sea water, but I have lost the name of the artist, I must find it).  Yinka Shonibare's scupture Nelson's Ship in a Bottle now stands outside the Maritime Museum (arriving by way of the fourth plinth in Trafalgar Square) and, in the Queens House Great Hall, the intricate and beautiful wall and ceiling paintings by Turner Prize winner Richard Wright ( see short video below ).
What's more, entrance to The Queen's House and, indeed, the Maritime Museum is all FREE. I have written about the latter elsewhere ( see Down to the Sea Again… ). Greenwich, whether by Thames Clipper, Docklands Light Railway or the East London Line, is still one of the best, FREE days out which London offers. Definitely worth a visit.
If you enjoyed reading this article and want to find out about more places to visit in London try                     Undiscovered                   Waterloo          Visit to Hertford House              Somerset House      Visit to the Leighton House Museum