Is the name of the V & A's current FREE exhibition of Silvia Weidenbach's jewellery. Weidenbach is the V & A's first Gilbert Collection artist in residence and it is the works in that collection which inspired her own creations, which sit in the Gilbert Gallery (rooms 70 to 73, third floor). We went to see it yesterday.
The Gilbert Collection itself is a feast for the eyes, comprising a variety of pieces, furniture, silver, jewellery and decorative objets d'art.  It was put together by Rosalinde and Arthur Gilbert, the latter a scion of émigré Jews in the east End of London. Born in Hackney, but growing up in Golders Green, Arthur, formerly Abraham Bernstein, made money selling clothes designed by his fashion designer wife, whose name he took. They eventually emigrated to California where he made a second fortune in real estate. The couple became generous philanthropists and collected exquisite objects. Eventually the collection was given to the nation. Sir Arthur Gilbert was knighted in 1999.
The furniture, incorporating stone Italian mosaic panels, was stunningly beautiful and we watched a fascinating video showing how a pietre dura mosaic was made in a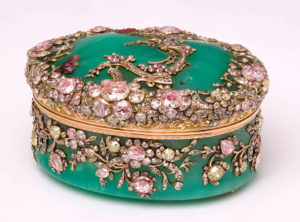 modern workshop using the same techniques as in the 17th century. The silverware was intricate and beautiful, but it couldn't compare to the intricacies involved in the tiny, exquisite boxes and enamels which form the centrepiece of the Gilbert Gallery.  I hadn't seen these before and I was glad I saw them yesterday.  They are perfect tiny pieces of art, made in metals, micro-mosaic, porcelain, gem stones and/or enamel.  I covet at least a dozen of them, especially the mother of pearl 'snuffbox with  rustic scene' or the almost transparent German boxes.  A number of boxes owned by Frederick the Great are on display and they certainly meet any 'bling' criteria.
Beside them Silvia Weidenbach's jewellery looks strange at first. The moulded plasticised forms inset with real gems and pearls are similarly intricate, the main elements of them created digitally and 3D printed before being 'sculpted' and the stones added. Her response to Frederick's bling is an elaborate little box of her own made in her secret 'moon dust' material.  This in turn reflects the secrets surrounding porcelain, for many years a material which was the exclusive preserve of the far east, but eventually copied in Europe to great effect.
Pieces of her jewellery stand within the Gilbert Collection, along side older traditional pieces. A group is set beside a silver Aspreys swan, a table centrepiece or ornament, in among other eighteenth century silver objects standing on specially designed mounts. The matte, often brightly artificial colours of the brooches stand out.
The juxtaposition between the collection pieces and Weidenbach's is sometimes jarring, almost ugly, and I have yet to work out why.  Pietre dure and micro-mosaics can still be produced today, and goldsmiths and silversmiths still create wonderful modern jewellery, but I guess that isn't what Weidenbach is about. She wants to use the latest cutting edge technology to create something entirely new, but which can still be inspired by the past. Do I like it?  I don't know, I think I would have to get used to it first.  But I was glad that I saw it and the Gilbert Collection together, it runs until 7th January 2019.
For more on art and what's on in London try                               Frida Kahlo                           New Sculpture at the V & A                            The Jameel Prize 5