… or not. As readers of this blog know, I do my own research. Unbelievably, some authors of fiction ( usually those who make a lot of money, lucky them ) use researchers to discover facts, figures and 'atmosphere' for their books.  I'm not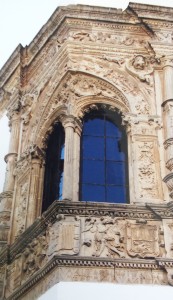 sure that's for me, I like identifying the telling detail too much.  Were my next book to be set in a frozen chicken factory, I think I'd have to work in one such, at least for a short time.  Fortunately for me, my next book is set in Spain.
I was asked recently how I did the research for novels set so long ago, like the one I am currently working on – set in the 13th century in Al Andalus – and a later work which I have already begun – set in the Age of Discovery in 15th century Spain.  My answer was glib – that it was easy and a pleasure, I look around when I am in Jerez, or visiting Cadiz.  Indeed, if we did not have a home there I may not have been inspired
to write these works in the first place, my imagination may have been caught by something else and taken in an entirely different direction. But there is, of course, much more to it than that.
I have read a lot of histories about the specific events and the culture of both those periods. For anyone wanting to understand the broad sweep of history, as it is bound up with religion, I would strongly recommend Sea of Faith; Islam and Christianity in the Medieval Mediterranean World by Stephen O'Shea, a remarkably accessible introduction to the ebb and flow of faiths around the, formerly Roman, Mare Nostrum.  For an understanding of how the Inquisition worked, two centuries later, there is The Spanish Inquisition by Helen Rawlings, a slim volume but erudite, based on the records kept by the Inquisition itself ( they were startlingly efficient bureaucrats ).
I make copious notes, on everything from the flora of the marshland between Jerez and Cadiz to calculating the likely position of the Alfonsine walls around the old city of Cadiz ( many of them having been destroyed or built over,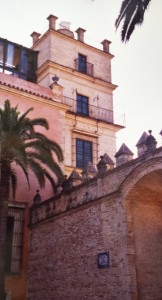 land being at such a premium in that crowded city ). And, in so far as it's possible, I check my plot, as well as my facts, to ensure that it hangs together in period. How far can a young woman on a mule travel in one day, for example?  Setting stories in the past begs lots of questions like these.
At least one can get help with stories set in the more recent past. I recently had a conversation with a friend who said he found the mixture of fighter planes and bombers in Sunday, the first story in 'The Village' to be historically inaccurate.  My response was that I would look at the story again to check, but I was pretty sure there wasn't a mixture, the RAF base is Bomber Command; the only fighter planes mentioned are those in the imagination of the story's main character, Ray, whose knowledge of WWII is largely from films made after the war.  In this particular instance I had consulted, when writing the tale, with those who were there, always the best form of help, and my thanks to Wing Commander Tony Gunby and his veterans for looking over this story to check for verisimilitude. People are very generous with their time and their knowledge and I haven't yet been faced with even one refusal to help.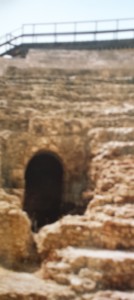 I try to visit as many of the locations of my stories as I can. I insisted on climbing through the interior of the, then incompletely excavated, Roman theatre in Cadiz despite my friends' reluctance to head into stony floored pitch darkness ( please note it is now excavated and well worth a visit, flashlights not being needed ). And I have stood on the open top of the tallest watchtower in Cadiz ( a not inconsiderable feat for one who suffers from vertigo and fear of heights ) so as to gauge how far one can see.  The answer is for miles and it was only after doing this that I really understood the topography of the watery, marshy world that is the Bay of Cadiz ( see below and on Pinterest ).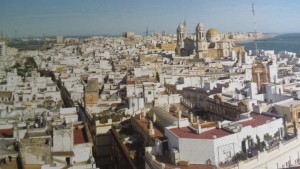 This blog post isn't a bibliography, but I should reference David Nicholle's books on medieval warfare and Syed Inamuddin's on the sociology and politics of Al Andalus. The books of Sir Stephen Runciman I ate up many years ago and regularly return to the feast.
If you enjoyed reading this blog post you might also enjoy    In the High Sierra            Plotting           Characters        Verano en Jerez          How does a book sound?