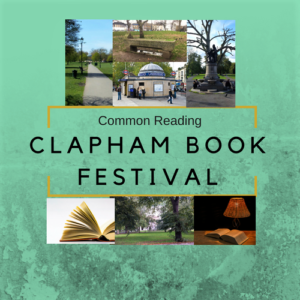 Clapham Book Festival 2018 has some very well-known names appearing this year.
The end of January was the date by which the Programme had to be signed off and, yes, we've managed it.  Though we haven't absolutely nailed down everything, it's fair to say that most is done. Given the recent resurgence of popular interest in poetry and the Oscar nominations and box office of recent cinema films set in WWII, we definitely have some timely sessions. I don't set out the full Programme here, that will be on the Clapham Book Festival web-site soon with all the details, but this is a little taster of what's on this year.
The Festival has two venues in 2018. Mary Seacole House, Clapham's award-winning new Library building and Omnibus, Clapham's multi-purpose arts venue, in a Victorian building which, very appropriately, used to be Clapham's Library before the new one was built.
The Festival begins at the new Library with prize-winning author Patrice Lawrence, whose debut novel Orangeboy (Hodder, 2016) won the Waterstones Childrens Book Prize for Older Children 2017, The Bookseller's 2017 Young Adult Prize and was short-listed for the 2016 Costa Children's Book Award. Patrice will be talking with book lovers of all ages at ten o'clock. This is a free event, be sure to get there early.
Thence to Omnibus, the old Library, for a talk/workshop on The Writing Game, all the 'dos' and 'don'ts' about getting your
manuscript published, from industry experts, leading literary agent, Lucy Luck and publisher and editor, Philip Gwyn Jones. This will be followed by Word Force a poetry session, introduced by Michael Glover, local author and critic and led by Daljit Nagra, the BBC's first Poet in Residence and creator and presenter of Poetry Extra on Radio 4 Extra.
A swift break for lunch (we plan some tie-ins with local eateries, just as last year) and then festival goers step deep into Crimeland in the afternoon. Writer and broadcaster Mark Lawson and  guest(s) forensically explore motives, locations and moralities. Then a grand dame of English letters comes to Clapham. The illustrious Dame Margaret Drabble reflects on the themes and issues in her latest novel The Dark Flood Rises and on a celebrated and productive writing life, with local author Natasha Cooper.
For lovers of non-fiction there is Walls Have Ears, Clapham writers Henry Hemming and Simon Berthon join with author Clare Mulley to discuss defending the realm before and after WW2. Then in the evening join best selling Clapham author Elizabeth Buchan as she introduces our final speaker. Find out what a room in The Best Exotic Marigold Hotel is like as Deborah Moggach, author – of Tulip Fever and many other novels – screen writer and critic takes us behind the scenes.
It's all tremendously exciting. Make sure you get tickets early, as, given last year's sell-out success, we anticipate that demand will be high. Tickets will be available via the Omnibus web-site in March.
If you would like to read about last year's Festival and the discussions had try                         Ghost Writing           Resurrection and how to do it        Tomorrow – Festival 2017
Please note the names of the sessions may alter.