Yesterday (I write this on Sunday) thousands took to the streets of Barcelona, protesting against the imprisonment or exclusion of Catalan separatist leaders, carrying banners which read 'Free the Political Prisoners'. The march was led by Quim Torra, current President of the Catalan Parliament.
Catalan detainees were recently transferred from Madrid to a prison closer to Catalonia, in a goodwill gesture by the new Spanish government.  But, clearly, it is not enough to resolve the crisis by itself. There is some legal hope, however. German courts have ruled that Carles Puigdemont, the Catalan leader in exile,
can be extradited to Spain. However, the charge he faces – rebellion – was considered inapplicable by the German court, as the closest German equivalent charge – high treason – is invariably accompanied by violent action and Puigdemont's actions in regard to the Catalan independence vote were not (or not sufficiently).  So he can only be extradited on the charge of misuse of public funds, a secondary charge. This is important, as European legal practice allows the receiving country only to try the extraditee for the crime on the extradition order. The maximum penalty for rebellion is 25 years in jail, it is considerably less for misuse of public funds.
This holds out hope for the other nine, as, if their President cannot be tried for rebellion, their lawyers will say that neither can they.  It may also be convenient for the Spanish government, whose new Prime Minister, Pedro Sanchez met with Mr Torres on Friday. Both men pledged to ease tension, even if their positions on Catalan independence

remain very different. As I have reported before, Sanchez has to be careful, he leads a minority party and feeling in Spain against Catalan independence has been exploited by the centre right party Ciudadanos.  Ciudadanos has roots in Catalonia, as Ciutadans, an anti-separatist party. Their leader Albert Rivera duly appeared on TV news saying that his party would not tolerate separation, or leniency to criminals.
Sanchez and Torres agreed to re-establish a bilateral commission to hammer out a solution. Meritxell Batet, the new Public Administration Minister and a Catalan, will represent Madrid. He is already talking about a possible revision of the Spanish Constitution to allow a 'federal solution'. Any amendment to the Constitution requires a two thirds majority in the Cortes, however, and Sanchez and PSOE have only 84 deputies out of 350.
In the Partido Popular, meanwhile, the race to replace the defeated Mariano Rajoy proceeds to the final vote next weekend at the Party Congress. The two candidates from the primaries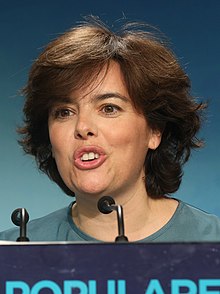 are Batet's predecessor and hard-liner former Deputy PM, Soraya Santamaria and Pablo Casado, the PPs Vice Secretary General of Communication. Both have been on TV defining themselves against their opponent, most particularly in regard to the latest scandal which has hit Spain.
The TV schedules have been full of Corinna zu Sayn Wittgenstein, blonde German 'friend' of former King, Juan Carlos. The former King and his wife failed to publicly celebrate their 50th wedding anniversary recently, so speculation is rife, though Corinna is not new on the scene.  This set of revelations have been prompted by voice tapes of the two protagonists, which have been repeatedly played on Spanish TV News. It's all very embarrassing and a classic Summer scandal story, rivalled only by the nightly pictures of the San Fermin Festival, or Pamplona bull run, which are grisly in a very different way.
Back to sunny London tomorrow and preparations for the Lambeth Country Show.
For more on Spanish politics try                             Hello, Prime Minister, we need to talk...          Homage to Catalonia                        White                    What happened next                      What happened after that