Tucked away in Panton Street  is a little gem of  a 19th century public house, which isn't easy to find even when the approaches to Leicester Square aren't blocked by scaffolding and plastic sheeting. The Tom Cribb, named for the famous early 19th century pugilist who owned and ran the establishment when it was called The Union Arms is worth a visit, especially if you are looking for a decent ale in central London in a pub just off the beaten tourist track.
Tom Cribb was born in the West Country but moved to London when he was thirteen . At this time bare-knuckle boxing was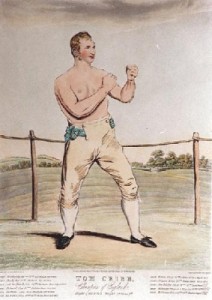 all the rage, with its champions feted in high society and low, and boxing bouts drawing crowds into the thousands. Tom began fighting at the age of 24, his first fight being at Wood Green ( now in north London, but then a part of rural Middlesex ). Most fights were staged in rural locations, mainly because the practice was not entirely legal, however popular they were. His victory, followed by others, persuaded him to become a professional pugilist and, by 1810, he was champion of England. He was one of the most famous men in England at the time, songs and poems were written about him and he met the great and the good.
In Cribb's corner as a 'second' for his first fight was one Bill Richmond, a fellow boxer. These two became bitter rivals and fought each other later that year, with Cribb victorious ( in the 60th round ). Richmond, a former slave, could be said to be the first black professional sportsman and he was a celebrity in his own right.
Richmond became convinced that his protege, Tom Molineaux, another former slave, could beat Cribb. The show-down, which was billed as the fight to be World Champion, took place in 1810 and Cribb won, albeit narrowly. The fight appears in Black Ajax, a novel by George MacDonald Fraser about the life of Tom Molineaux, as do Richmond and, of course, Cribb. Later in life, when both Richmond and Cribb were retired, the two men became friends. Richmond also became a publican, his establishment was nearby in Leicester Square and the friends would frequent first one hostelry then the other. When Richmond died in 1829 Cribb penned a moving eulogy.  There is a plaque to Richmond inside the pub, along side his portrait.
Prints of famous boxers were popular at the time ( see Faces of Britain ) and a large number of them adorn the pub walls, of Cribb, Richmond, Molyneaux and others, together with other boxing memorabilia. There is an English Heritage Blue Plaque on the external wall of the pub to commemorate Cribb.
Cribb died in 1848, having retired in 1821 ( at the age of 40 ). He is buried in St Mary Magdalene Church yard,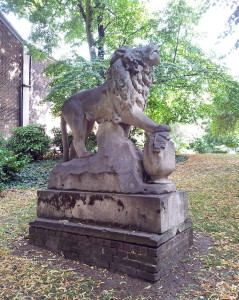 Woolwich. The stone monument above his grave is of a lion, appropriate, given that he was said to have been as brave as one.
The Tom Cribb is currently run by Shepherd Neame Breweries – one of the old, smaller breweries and famed for its ale. It now has a traditional Victorian interior with polished wooden bar and beer pumps, intaglio glass and lots of brass fittings.  It is a small pub and can become very crowded, visitors please note. Visit the pub's web-site for details about opening hours and services.
If you enjoyed reading this article you might also enjoy                       An Old Prospect                     A Perfectly Preserved Princess