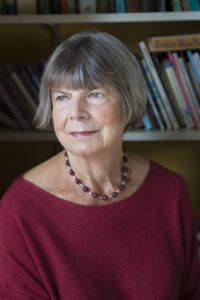 A real coup for Clapham Literary Festival this year is the presence of Dame Margaret Drabble.  We are a small and relatively new literary festival and we're very lucky to manage to attract someone of Dame Margaret's stature. She will be in conversation with best-selling local novelist Natasha Cooper.
Born in Sheffield, Dame Margaret went to Newham College, Cambridge to read English and subsequently joined the Royal Shakespeare Company. Acting was abandoned for a life in literary studies and writing and her first novel A Summer Bird Cage was published in 1963. Her third novel, The Millstone (1965) won the John Llewellyn Rhys Memorial Prize and Jerusalem the Golden won the James Tait Black Memorial Prize in 1967. To date she has written nineteen novels, two biographies, of Arnold Bennett and Angus Wilson, critical works on William Wordsworth and Thomas Hardy and she edited the Oxford Companion to English Literature in 1985 and 2000. Other non-fiction includes A Writer's Britain: Landscape and Literature (1979) and The Pattern in the Carpet: A Personal History with Jigsaws (2009).
Dame Margaret's novels reflect contemporary society, with individual protagonists, usually women, experiencing the political, economic and
intellectual climate of the day, often the darker and more restrictive elements. There is a whole generation of English women who 'grew up with' her early novels which documented the tremendous societal change of the 1960s and 70s and what this meant, and how it felt, to women at that time. Women's growing independence, financially and, with the advent of the contraceptive pill, sexually and their subsequent attempts at family life at the same time as finding some form of fulfilling intellectual life featured strongly. Jerusalem the Golden was the original 'Hampstead novel' though its author has always seen it as the continuation of the narrative tradition of Arnold Bennett rather than the beginning of a new tradition (which it became).
In later years Dame Margaret continued to address the issues of the day, while taking inspiration from her own life. Her 1980s trilogy, The Radiant Way, (1987) A Natural Curiosity (1989) and The Gates of Ivory (1991) explores life for middle class, educated women in post-Thatcher Britain which she has described as 'mean, cold, ugly, divided, tired . . . post-imperial, post-industrial'. London is left behind, in the second and third book as in later novels, such as The Witch of Exmoor (1998) which chronicles the experience of an older writer who withdraws from London to live on Exmoor and the impact this has on her adult children.
On 12th May Dame Margaret will be discussing her life in letters, but also her latest novel The Dark Flood Rises (2016). Its heroine Fran may be old but she's still living a full and ungentle life, much to the chagrin of her off-spring and contemporaries.  The Guardian 'With its echoes of Simone de Beauvoir and Samuel Beckett, this quiet meditation an old age seethes with apocalyptic intent . . . Brilliant.' The Times 'Darkly witty and exhilarating' Sunday Telegraph 'Drabble has pulled off a quietly revolutionary portrait of an age-group whose lives are just as urgent as anyone's but are rarely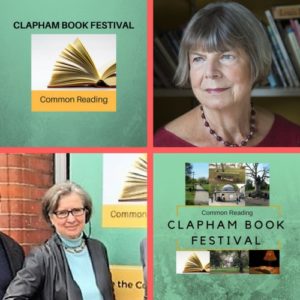 considered' Daily Mail 'Erudite, beautifully written, funny, tragic'.
Natasha Cooper is a crime writer and former Chair of the Crime Writers Association. Her sleuth Trish MacGuire has featured in a series of nine books, her civil servant detective Willow King in seven and her forensic psychologist Dr Karen Taylor in four. She has just started writing again after a 7-year break, in between broadcasting, reviewing, writing features and short stories, and talking to reading groups and literary festivals in the UK and USA.
Come along to Omnibus Theatre on the afternoon of 12th May and hear her talk with Dame Margaret Drabble about The Dark Flood Rises and a lifetime in literature and letters.  Tickets £15/£12 concessions. Buy them now, this event is already proving popular.
I you would like to read more about this year's Clapham Book Festival ( or earlier years ) why not try            Crime Land                   Word Force                  How to get published        Walls Have Ears                      Place & the Writer                      Death and the Past