by our Nature correspondent
Passengers on the London Underground are reporting sightings of that most rare, and deadly, form of plant life, Triffidus Wyndhamii, or the common triffid, between Sloane Square and central London today.  'It's foliage was swaying, reaching for the carriage windows,' one eye witness said. 'There was no sign of the venomous stinger, but everyone got off at Victoria just in case.'  British Transport Police have been alerted. A spokeswoman said, 'We'll be waiting for it at Embankment, where it'll probably have problems minding the gap.'
Yes, it's grand sell-off day at the Chelsea Flower Show and you don't have to be a resident of SW3 to catch sight of many a gardener bowed under the weight of a huge plant highly unsuitable for transporting via bus or tube.  There have been some very fine larger specimens this year. My favourites were the Bismark Palm in the Islam garden and the various multi-stemmed trees, in the Sentebale garden, the
Telegraph garden or the Royal Bank of Canada garden.
Gardens which impressed, aside from those mentioned in my earlier blog, were the Brewin Dolphin garden with its sculptures of layered slate and the Breakthrough Breast Cancer garden with its green and white planting, interspersed with pinks.  The Living Legacy garden commemorated the 200th anniversary of the Battle of Waterloo, its use of a blasted tree trunk and sharp metal shards was interesting,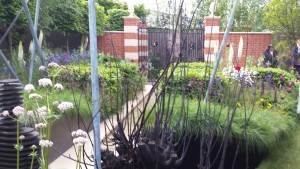 the latter brought to mind the WW1 paintings of Paul Nash.  I liked less the brick and iron gateway which rather resembled the entrance to a newly built gated housing development, though it is meant to represent the gates to Wellington College, an institution set up in the first Duke of Wellington's memory.
Chelsea seems to have been everywhere this year – the BBC's coverage, though excellent, seem to grow ever larger and more ubiquitous, rather like the grassy planting in many of the gardens.  If you're going, you really have to watch.
That's it for another year.  If you know that you're going to be in London in May 2016 get tickets – they're not cheap, but you don't need to have an all day
ticket, you can go just for the afternoon and/or the evening.  It's a great, if expensive, place to socialise and it's still the very best place to get gardening ideas.  There are lots of images on my Pinterest Board for Chelsea 2015, check them out here.
And if anyone is seeking gardening or garden design services in the Chichester area, Helen Harley can be found at flowersfmg@btinternet.com.