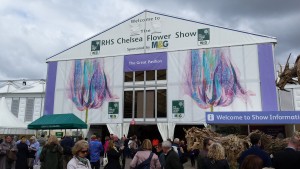 It's that time of year again, when the quiet shade under the Royal Hospital beeches echoes to the sound of the Guards brass band. Champagne corks pop, tv crews talk and there's a lot of shopping amidst the viewing, noting and collecting. The English (and many other nationalities besides) are at the first of this year's annual events of the season, the RHS Flower Show.  Chelsea precedes the Summer Exhibition (8th June – 16th August), Henley (1st – 5th July), Wimbledon (29th June – 12th July)  and there's a test match about to begin at Lord's.  As usual no-one told the weather gods. Yesterday was blustery, sometimes wet and cold, but the sun did appear and the afternoon was more pleasant (or was that the effect of the champagne at lunchtime?).
We began with the show gardens. It was possible, though not easy, to see them properly in the morning (before the added influx of people at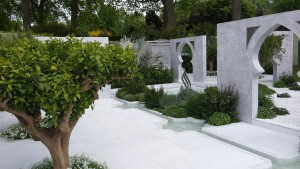 lunchtime). There were some real highlights. The Beauty of Islam garden was tranquil and serene, with sculpted white stone and running rills and fountains, planted with herbs, citrus trees and palms. I'm fond of the Moorish style and this was a particularly precise and well defined version, capturing its purity.  The Perfumier's Garden too was a delight, with its olive and fig trees, wild poppies and irises and the canal and 'lavoir' typical of Provence. More traditional, formal English gardens were those sponsored by the Telegraph, Homebase and Morgan Stanley.  The first had understated formality, the second used wood and modernist shapes and the third was a knot-garden planted with a cloud of perennials. This garden was designed for an East London community project, whence it would be transported once Chelsea was over.  I will visit it, in Poplar, to see what becomes of it. Digitalis and irises abounded, as did euphorbia and aquilegia, to be expected at this time of year. And there was a slight move away from the 'scattered' planting which had become ubiquitous in recent years, ( hooray, it has dominated for too long ).
Our party was divided over Dan Pearson's Chatsworth garden, which had been given 'best in show'. Was it a garden?  Or a piece of manicured wilderness? Did it belong on the edge of a plot, somewhere between garden and open country (several of the party owned spacious, country gardens which would admit of such a thing, a 'garden within a garden', some, like me, were restricted by a city's limitations). The planting and skill were admirable. The huge stones were less universally admired.
We were harried indoors by the eventual downpour, having ignored for long enough the occasional spots of rain. Inside the Grand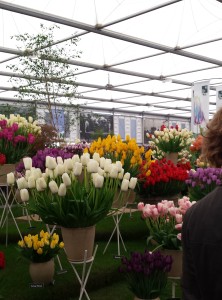 Marquee we managed to lose each other within minutes, mainly because there was so much to see.  My companion, a young lady from Ecuador, was entranced, though she expressed disappointment that she hadn't seen the 'flamboyant English' whom she had expected to see from her research.  Silenced only for a moment, I pointed out the man with pink hair and blamed the weather.
Lobster at lunch was followed by more fizz courtesy of exhibitors, for our party included Helen Harley, garden designer and plants woman, who was looking for items for the large Hampshire garden she is currently working on.  Originally a research scientist, at Edinburgh and then Cardiff Universities, Helen does all manner of garden work, including sourcing and raising rare plants on request (flowersfmg@btinternet.com), she is a perfect companion for Chelsea – someone who really knows what she's talking about.
Chelsea runs until Saturday from 8a.m. to 8p.m. closing at 5.30 with the 'great sell-off' of plants and other items. Sloane Square is the nearest tube ( the District and Circle lines ).  Unfortunately there are no  tickets available.  Book for next year.  There are lots more photographs, together with explanatory note on juliej's board on The Chelsea Flower Show 2015 on Pinterest.  Go and check them out here.  I will return to this topic later in the week.