It's only a week until this year's Clapham Old Town Fair and the Clapham Book Festival's latest outing. As in the previous two years we have a stall (the stall is called Clapham Writers, the charitable body which organises the Festival).  The whole fair begins at midday, with fun fair rides, 'sports' competitions , a dog show, food and drinks stalls and, throughout the day, some excellent live music. Question – does the sack race count as a sport? Where is the 'penalty shoot-out' going to take place and can I watch?
Last year there were also surprise 'demonstrations' from the Fire Service and the Police ( see He Shouldn't Have Parked There ) so I'm wondering what's going to happen this year. There are also lots of food and drink stalls, with everything from local ale and gin producers to local restaurants so there's a huge range of cuisines on offer. If you're in south London why not come along and enjoy it.
We have lots of excellent donated books to sell this year, many are review copies so are in pristine condition. 
All proceeds go to the Clapham Book Festival and its outreach work.
Incidentally, two of the authors who appeared at this year's Clapham Book Festival have already been listed for 2018 awards.  Clare Mulley's The Women Who Flew For Hitler (Macmillan) is long listed for the Historical Writers Association Crown (Non-fiction). Clare was one of the authors on the Walls Have Ears panel at the Clapham Book Fest earlier this year, in conversation with fellow biographers Henry Hemming and Simon Berthon (see right).  Vaseem Khan's The Strange Disappearance of a Bollywood Star (Mulholland) is short-listed for a PWA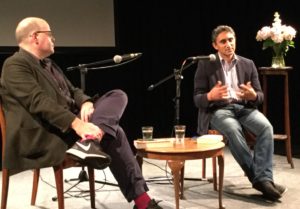 Shamus Award for Best Original Private Eye Paperback. Vaseem appeared with Mark Lawson in Crime Land (see left ). More potential prize-winners at our Festival. The list grows and grows.
We'll also be showcasing some of the books of local Clapham authors (also for sale, but probably at full price) and generally publicising the Festival. Various authors will be popping by to sign their books. So, if you want to buy a signed copy, come along. As we did last year, we shall be collecting e-mail addresses for our mailing list –  if you want prior notification of next year's Festival, the dates and programme, join our list. There's also the incentive of a prize of a selection of books from next year's Festival. This year's was drawn by Elizabeth Buchan. The winner was Esther Pina and her prize was presented to her at the 2018 Festival (see And the Lucky Winner Is).
Maybe Esther will be along, or David, the winner of the 2018 Prize Draw, an overnight stay at The Windmill Hotel (see Out of the Hat). Doubtless we will meet some new writers – the publicity for this event has already yielded one, Lynne Russell, children's picture book author and Clapham resident for over twenty years. Her new book Stinky Dog Where Are You? is published next month. I'm sure there will be more.  If you're at the Fair, do come along and say hello.
For more on Clapham Writers and the Clapham Book Festival try                           CBF 2018 How'd it Go?                         Sunday in the Park with Books                                      Crime and Punishment