I said in A Little bit of history…with bikes, that the story of the Kirby Codec tea towels for the Qhubeka bicycle charity was not complete. Today, suffering from withdrawal symptoms after the end of this year's stunningly exciting  Giro d'Italia, but as the Dauphiné proper gets under way, seems as good a time as any to return to this tale, especially as Qhubeka has just delivered a tranche of bikes to their recipients.
So what happened to the hundreds of tea towels which sped – signed, docketed and wrapped – around the globe?  None of them were used, as far as I know, as tea towels.  Mine certainly weren't, they hang upon my wall even now and Twitter users will have seen plenty of photos of framed codecs, mounted codecs, all three codecs hanging in a series and even codecs
made into a quilt. The ingenuity of cycling fans knows no bounds.
The whole exercise resulted in funds raised for 33 Qhubeka bikes, though the good news is that the City of Johannesburg has fund-matched the total raised, so this doubles to 66 bikes. These bikes are part of the release of three hundred and fifty bikes to Orlando, Soweto, on 31st May or #NewBikeDay, mainly to school children. Each child has to commit to improving their attendance at school in order to get a bike, which, of course, makes getting to school that much easier for them. It is estimated that 12 million school children walk to school in South Africa and, for over half a million of them, that journey takes over two hours there and two hours back. The bikes help cut the travelling time by three quarters.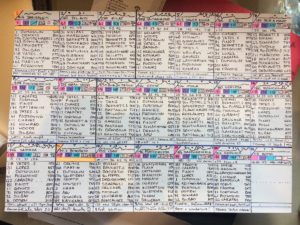 So the 2018 Giro (such a brilliant race) was a further opportunity to raise more funds, with the long-suffering (and really rather saintly ) Ali Gayler agreeing to do it all again and Carlton Kirby compiling his Codec and willing to allow it to be used again. This year the tea towels cost £12.50 each and yet again it is a limited edition. Only 250 will be made and, I fear, it is already over subscribed. Carlton shared the almost completed version of the Codec on Twitter on the last weekend of the race (see left). Please note that copyright of the Codec rests with its creator, Carlton Kirby, just like any other work.
So what next? Well, if Carlton is commentating on the Tour de France and/or the Vuelta later this year there will be one or two more codices which can, potentially, raise
more funds.  Though that's a lot of work for Ali, whose life is completely taken over by all of this. But our trusty commentator may be too busy, hard at work writing, for it is rumoured that he is writing an auto-biography.  Now, what is the likelihood of him doing a slot at Clapham Book Festival 2019?
While we're talking books – I can strongly recommend any cycling fan to read The Monuments by Peter Cossins (Bloomsbury, 2014) for a cracking read which is also the history of cycling's five oldest one day races. It wears its compendious knowledge lightly and is full of intriguing and sometimes startling stories.
If you enjoyed reading this article you might also enjoy                   When is a tea towel not a tea towel?                        Rain stopped play                     A Sporting Weekend               Monument                      Boozing Kens