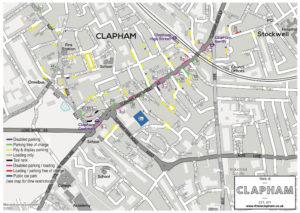 Clapham and Clapham Common in particular feature in a number of literary works, most famously as the setting for Graham Greene's WWII novel The End of the Affair (1951). Greene lived at 14, Clapham Common Northside which, though it still exists today, was bombed during Blitz and he included that experience in another war-time novel The Ministry of Fear (1943). Both books were made into films, the former on two occasions and gaining Oscar nominations.
But Greene is not the only modern author to conjure up the open spaces of the Common for literary purposes. In his Booker Prize short-
listed Atonement (2001) Ian McEwan had his heroine Cecilia and her nemesis Briony both live in or around Clapham during WWII, particularly around Clapham South. Both characters train to be nurses and until relatively recently Clapham South boasted the presence of the South London Hospital for Women (turned in the first decade of this century into a supermarket and apartments).
Of course, John Lanchester's Capital (2012) is set almost wholly in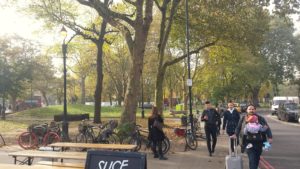 Clapham, on the fictional Pepys Road, so named because, of course, during the later years of his life Samuel Pepys lived and died in Clapham. Characters regularly run, walk, sit and meet on the Common. It is so acutely observed, and embellished upon, that I thought I recognised pretty much everywhere in it ( and quite a lot of the characters, or at least their real world equivalents ). Pepys Road could have been the road upon which I live, even down to the corner shop and the ever patrolling traffic wardens ( though I don't know anyone as truly awful as the leading character Arabella Yount ). Unsurprisingly, Lanchester and his wife, M.J.Carter, are residents of Clapham. Miranda, the author of the Blake and Avery novels, took part in the 2016 Clapham Book Festival.
More recently Anne-Marie Neary set The Orphans (2017) in part on Clapham Common. Anne-Marie is a Clapham resident and appeared at the 2017 Book Festival. Her heroine too lives close to the Common.  I was at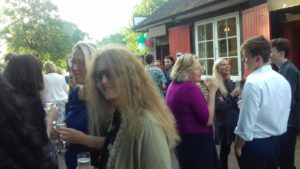 the launch party for The Orphans last Wednesday, hosted by Penguin Random House, and had some interesting conversations, not least with fellow authors.
Wider Clapham features in a minor way in novels by Angela Carter, a long time Clapham resident, though she seemed to favour neighbouring Balham and Battersea for Nights at the Circus (1984) and Wise Children (1991). Similarly the Clapham Road appears in The Paying Guests (2014) Sarah Waters dissection of London life post WW1.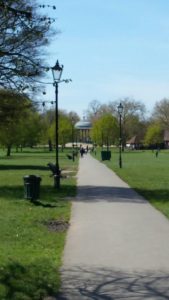 Then there is Clapham Lights (2013) by Tom Canty, another Clapham resident, which follows the travails of a young estate agent, his would-be inamorata and his leeching friend.  Clapham Common is also a main player in Taking Battersea (2015) the first novel of playwright David Armstrong, which echoes Greene's End of the Affair, though it is closer in spirit to the Canty than the Greene.
There are plenty of poems set on the Common, like Clapham Elephants by P.J.Kavanagh, a poem prompted by a visit to the circus on the Common with his small son. You can find it on the Poetry Archive.
All in all, for a London suburb, albeit a central one, Clapham is well represented in literature and this year the Clapham Book Festival is making a self-guided Literary Walk available, complete with quiz, in advance of the Festival itself. Watch this space.
If you enjoyed reading about literary Clapham you might also enjoy reading about its history                    A Walk on the Wild Side                The Battle of the Crows….                        Amazing Grace                     London Books