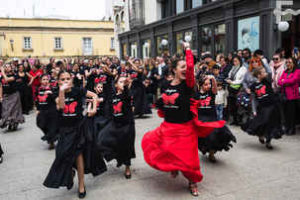 Over recent years the Festival de Jerez, always famous in the flamenco world, has acquired a wider and well deserved international reputation. It's not just the formal performances, or the 'off festival' venues, it's also fun events like the children's flamenco flashmob (left). Inevitably, international festival goers follow, bringing much welcomed money to the local economy.
This year there seemed to be as many non-Spaniards as Spaniards. We heard German, French, Italian, Dutch, Scandinavian (I can't attest to
which Scandinavian language, but thought it might be Norwegian) and a number of Oriental languages.  Certainly Japanese, but also Korean (I was informed) and Chinese. English was the lingua franca, but was spoken with an American and an Antipodean twang, as well as the usual one.
For the first time we recognised non-Spanish Festival-goers from previous years. The German gentleman in the purple trousers, speaking with the Dutchman who was talking about taking flamenco guitar lessons as we sipped sherry, waiting for Rafaela Carracso. The party of Korean or Japanese young women who congregated at the front of Sala Paul for Marco Flores, Camerata and Jesus Guerrero, at least one of them spending her days taking Spanish lessons.
There was a preponderance of Spaniards in the 'off-Festival' venues, the tabancos and penas, though often they weren't all locals. My Spanish friends prefer to go and see artists like Gloria de Jerez in local flamenco clubs and bars, although they always turn out for the local artistes, either 'off' Festival or as part of the main programme. So there were many Jerezianos in the audience for Antonio Agujefas and Juan Lara, but far fewer for the Camerata Flamenco Project. The jazz inspired set by Santiago Lara last year, while advertised as innovative, not traditional, still attracted a good proportion of Jerezianos and not all of them young, so it's not as if Jerezianos are all purist, though some undoubtedly are.
It is more difficult to get tickets these days.  This may be disconcerting to
the locals, as tickets have always been on sale and available even on the day of the show itself. Often they were sold on the door, where I've bought them in the past. Rather like international cricket matches  these days one can't just turn up on the day and expect to get in. ( Now there's an analogy that I doubt anyone has made before. ) This changes the nature of the crowd/audience, removing the spontaneous element.
Tabanco El Pasaje on early Saturday night was full to bursting and the show wasn't due to start until ten o'clock. But then that's usual for El Pasaje on a Saturday night. Almost all of the performances we attended were sellouts, although there were a few seats empty for Camerata ( such a shame, they were so good ).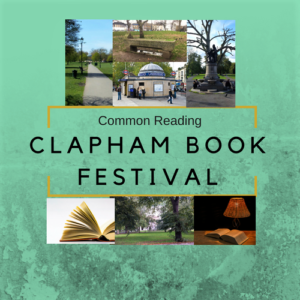 Back in London now my thoughts turn to another type of Festival goer. The Clapham Book Festival approaches apace – it's only six weeks away –  and there's work to be done.  I'll be blogging about it all.  In June there's the Crystal Palace Overground Festival too, with 'Storytelling' and 'Reconquista'.  Lots to do.
If you enjoyed reading about the Festival de Jerez why not read the other articles about it?                  Lola            Old & Young          Festival Vibes          Flamenco Jazz Guitar         Camerata Flamenco Project – Amazing   Lamento                 Jerez in the Rain                 Sherry Wine, Dancing & Song