Tate Modern's big exhibition of the summer is a large one, thirteen rooms of the work of American Modernism's first lady.
Before attending last Friday I knew little about O'Keeffe (1887 – 1986) other than her huge flower paintings and her New Mexico location and there aren't any O'Keeffe's in UK public collections. This exhibition certainly filled the gap, showcasing the remarkably wide range of her work, from New York cityscapes, to New Mexican mesas via farmsteads of the American north-west. It also shows how, despite being closely interwoven into the modernist circle, via Alfred Steiglitz and photographer Ansel Adams, she remained an independent and spiky presence.
'Men put me down as the best woman painter…I think I'm one of the best painters.'
Born in Wisconsin to immigrant parents, O'Keeffe first came to prominence when her drawings were
exhibited by Stieglitz, who eventually became her husband, at his '291' gallery in New York in 1916. Even at that time she was taking inspiration from the world around her, most commonly landscape, although her works were largely abstract and she translated sounds into visual forms ( 'synesthesia' ). She moved to New York and began working with Steiglitz and the modernists who surrounded him.
Steiglitz suggested psychoanalytic, heavily erotic, interpretations of her paintings which annoyed and frustrated her, but it's hard not to equate these abstractions with fleshy anatomical forms ( see right ). Indeed, had some of these been painted by a man I would find them decidedly unsettling.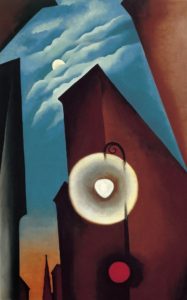 In the city she produced a remarkable series of city scapes, often of New York at night ( see left ) in which she plays with chunky skyscraper forms and light, both natural and man-made. She stopped painting New York not long after the Wall Street Crash of 1929, concentrating instead on the landscape around Lake George in up-state New York where the Steiglitz family had a home. I liked very much both the New York City and New York State paintings.
I also liked the big, realistic flower paintings, the only works I knew about before.  At first she painted semi-abstract compositions, but these were interpreted as sexual or bodily inspired and she moved to a greater realism, frustrated by the critics concentration on this aspect at the expense of all others.  
In 1929 O'Keeffe visited the art patron and writer, Mabel Luhan, in Taos, New Mexico and felt immediately at home in the landscape.  Visiting repeatedly, she eventually purchased 'Ghost Ranch' in 1940 and the exhibition has a number of rooms devoted to her response to the parched desert, wide mesas and bleached animal bones she found there.
I found her landscapes of this period most seductive. In these pictures m
ountains and plains seem to become life-forms, with sinews and musculature and she uses colour to startling effect, contrasting the reds and pinks of earth and cliff with the intense blue of the higher mountains and the sky. I liked less the 'skull paintings' of animal bones, mainly, I think because I found the pastel shades too saccharine and the works too obviously trying for 'icon' status.
In her later years she moved towards painting in series and I particularly liked the series of the patio of her home in Abiquiu, eventually becoming more and more abstract, so that the shapes and the intensity of colour reminded me of Rothko. After a career spanning seven decades, O'Keeffe died, aged 99 in her beloved New Mexico.
My favourite works?  Not sure, I liked a lot of them, but the ones which might live longest in the memory are abstractions of white pelvic bones, smooth and solid, set against a sky so blue that it hurts.
The exhibition runs at Tate Modern until 30th October and it's definitely worth a visit. Tickets cost £17.20 ( without a donation ) £15.40 concessions.
If you enjoyed reading this post you might also enjoy                Eric Ravilious              Frank Auerbach            Artist and Empire         Barbara Hepworth
You might also enjoy a BBC documentary scheduled for Tuesday 26th July.