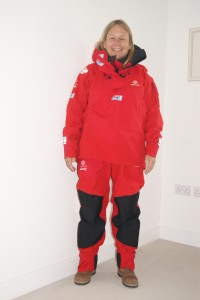 I guess that those of you who were following my blogs last year, as I was preparing for my Leg of the Clipper Round the World Yacht Race, will have wondered where I disappeared to! I planned to write a series of blogs throughout my journey but for reasons which I hope will become clear, this just didn't happen.
The 2015/16 Race came to an end in London last weekend. We celebrated our teams success, we came fourth overall, a fantastic achievement. Going to the celebrations and seeing the last chapter of the Race made me want to write, now, about my adventure. And what an adventure it was!
My last blog followed my level 4 training and it didn't seem very long after the training that I set off for Australia and the Southern Ocean. I had decided to spend some time before the Leg doing a bit of acclimatizing and sightseeing in Western Australia. My friend Saz, who lives in Tasmania, travelled to Perth to meet us, me and my daughter Jeni, who had travelled to Australia with me, and we spent a lovely week on a road trip from Perth to Albany. It was great as I got used to the new time zone and spent time with my daughter and close friend. It took my mind off starting the Race and as a good break between work and the race.
I, however, was definitely in adventurer mode. In Pemberton, on the way to Albany, I decided to climb
 one of the famous trees there.  The Gloucester Tree is fifty three meters high and you can climb right to the top onto a viewing platform. Years ago they were used for fire spotting as at the top you are right above the tree line. It did look high when looking up, but I was sure I could do it. It was strange as there were no 'officials' at the tree, you just climbed at your own risk.
We arrived to see a few people at the bottom who had climbed and some men coming down, one of whom managed to get stung by a bee about twenty feet up. Luckily he didn't fall as he flapped around. I think when I decided to climb I thought the tree was fifty-three feet high, not fifty-three meters! Jeni said she would climb as well, but she only made it up about ten feet! I am definitely someone who, when once I start something, I want to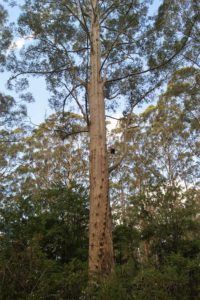 see it through (this helped on the race itself). I am rather stubborn so, even though I was apprehensive, up I went.
You actually climb the fifty-three meters up a small ladder fixed to the side of the tree, with no safety line. The ladder goes around the tree and over the branches.  ( In the photo, left, Sue is the small black blob to the right of the trunk – Ed. ) It was interesting passing a rather large gentleman who was coming down as I was climbing up, with me hanging off the side of the ladder for a few worrying moments. Reaching the top was amazing, with an incredible view from the swaying platform. But then I needed to get down.
This was somehow worse than going up. I managed by using the same leg first on each step. This meant that when I reached the bottom I had developed a spasm in that leg, which affected me for days afterwards. So that was enough death-defying pre-race activity and I took it easier on the rest of the way to Albany.
On arrival I started to get a bit more nervous about what was ahead. The yachts had already arrived from Cape Town a few days earlier and it was crew changeover day ( sailors from the previous leg leave and sailors for the next leg join ). There was a little party in one of the sail sheds with Clipper officials welcoming us. It was great to see my Skipper Ash and my Clipper bestie, Hayley ( a Round the Worlder ). We had rented an apartment in Albany for a few days, so while I undertook pre-race activity, Saz and Jeni did some sightseeing.
One of my days of prep was a refresher day. We were taken out on one of the yachts to reintroduce us to the boats and the evolutions ( more on evolutions to follow ). We went out on Great Britain with Skipper Pete. There were people from all the different teams on the refresher day and it started badly.
In my training there had often been times when people, usually men, had decided, unilaterally, that I was not doing something quickly enough, because I was a woman and therefore weaker.  They had removed me from the role I was fulfilling, usually with a gentle shove. This happened on Great Britain before we were out of the harbour. So, with my new-found Clipper assertiveness I asked the individual not to do that again, saying that I would ask for help if I needed it. I felt quite proud of myself for saying this and addressing the problem, rather than muttering to myself for hours. Good practice, I thought, for the race itself.
I wouldn't be sailing with this guy, I thought, so no awkwardness. The rest of the day went well. It was great to be on one of the yachts and getting back into the swing of things. As we were packing up at the end of the day we all shared which yachts we were on for the race and the guy who I had been assertive with said 'Hello, I'm Pete and I'm on Garmin.' Garmin was my yacht. It's funny looking back, but at the time I was mortified. Pete and I got on really well on the race and it made me realise that you do just have to speak your mind at times ( something I haven't always been good at ).
The rest of the time in Albany was spent getting the boat ready. I was put with the victualler, Kersten, so there were lots of visits to the supermarket, emptying their shelves of masses of pasta and other carbs. Not sure the supermarkets were ready for us. At one point there were four teams in at the same time, just stripping the shelves. Once the food was purchased – menus had already been prepared – we put each days supplies into individual dry bags ( though they often did not remain dry! ). A time-consuming process which finished with the bags being stored all over the boat, including in the bilges and a chart of their whereabouts compiled. My crew mates were getting other aspects of the boat ready, with jobs allocated by Andy, our team co-ordinator.
In the evenings I got my kit prepared. I had been tipped off to buy sandwich bags that seal, to store clean garments in to keep them dry. What a good tip that was. Everything gets damp on board so having some dry pants was lovely! I packed all my kit in my big dry bag.  then I unpacked and packed again.
 Then it was the day before the race and we were all assembled for the crew brief.  The race director talked about the route and the weather ( which was going to be interesting ) and seasickness and how to avoid it. There was a great atmosphere in the briefing and we all left in a buzz of excitement, after we had met Santa and had our photo taken with him.  The night before the off a few of us went out for a farewell supper. It was so wonderful to have my daughter and friend there in Albany to see me off. I didn't get off to sleep quickly that night, as everything I had been taught was going round and round in my head. I did remember to take my two sturgeon tablets though!  
I was ready for Race 4 – Albany to Sydney.