Interested party (noun) – any of the people or organizations who may be affected by a situation, or who are hoping to make money out of a situation (Cambridge English Dictionary)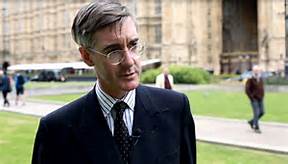 There have been quite a lot of people speaking out on Brexit and how a 'No Deal' could be such a good thing for Britain who could certainly be considered 'interested parties'. This post looks at two of them, Jacob Rees-Mogg MP, current Chair of the European Research Group and Steve 'We can spend enough to buy the result' Baker MP. Its main source is the House of Commons Register of MPs Interests.
Jacob Rees-Mogg MP – Somerset Capital Management LLP (receives approx £175k pa for 360 hours work or £486 per hour); payments from The Telegraph, Orion Publishing, the Daily Mail, LBC, the BBC. Shareholder (>15%) Saliston Ltd, a 'holding company'; Director of Somerset Capital Management Ltd(SCM), of SCM (Cayman Islands), of SCM (Singapore) of American Trading Co (Holdings) Ltd and American Trading Co Ltd. Plus his MP's salary of course.
Somerset Capital Management is a hedge fund, attracting money from investors with which to trade. Like most such funds, its business has improved as we move towards Brexit day, as people with capital seek a safe place to put it during a period of volatility. SCM has set up an office in Dublin so as to attract investors who want to place money outside of Britain because of the anticipated economic shocks of Brexit.

Steve Baker MP – Receives London accommodation from Jardentome Ltd, company director Baron Howard of Rising; Shareholder (>£70k value) in Glint Pay Ltd. a company which invests, and encourages people to invest,  in gold (that major hedge against economic uncertainty).
So that is two of the European Research Group of MPs who have, probably, already benefited from the economic chaos caused by an approaching Brexit (in that the companies in which they have shares or which they are officers of have already attracted more business).  Both also stand to gain further if the UK leaves without a deal ( and Rees-Mogg, amongst others, stands to lose if we remain, because of the EU's recent start in tackling tax avoidance ( see If Mrs Merton…. below )).
The more they shout about No Deal, knowing full well that this destabilises the markets further and hits the value of the pound, the more it drives people, and their money, to the companies from which they, as shareholders and officers, stand to benefit.  The media is, in effect, giving them a platform from which to make money. And I'm fairly sure these aren't the only ones.  Interested Parties II will be forthcoming soon, looking at more of the members of the European Research Group of Tory MPs.
Meanwhile the Economists for Free Trade Report ( for Economists read Prof Patrick Minford, the academic who actively promotes disruption and chaos the better to 'rebalance' economies, in a term so long that no one gets to see it ) sets out a slew of inaccuracies about what is and what is not possible about trading under WTO rules and, guess what, BBC News leads with 'UK has 'nothing to fear' from no deal Brexit'.  Nigel Farage promotes the Report on his LBC show.  It doesn't matter if it's accurate, it just has to exist to muddy the waters! See The Demagogue's Handbook, item four.
For more on Brexit try                        The Demagogue's Dictionary                        If Mrs Merton did tax and Brexit                             Democracy bought is not democracy