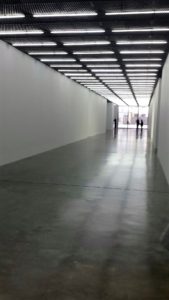 I don't usually post articles on a Friday but I had to do this one, because this excellent and FREE exhibition closes on Sunday. So this really is the last chance to see it and, given that almost all the works have already been sold, probably to see them on public display for some time. Until a gallery somewhere does a major retrospective. If you're in London today or tomorrow, or want an excuse to visit, come and see this exhibition. Entitled 'Fit', it's on at the White Cube, Bermondsey Street, Bermondsey.
Gormley is one of the UK's most accessible and commercially successful modern sculptors ( now 'Sir' Anthony ) whose widely known works include 'The Angel of the North', the 'Another Place' figures on Crosby Beach and 'Event Horizon', my own particular favourite,
which saw Gormley's trademark figures appear at vantage points all over the centre of London. There is only one such, named 'Over the Earth', in this exhibition ( see right ) but the artist's interest in the human form and the hole we make in space is present throughout this show. Perhaps most obviously in 'Passage' a twelve meter long tunnel, the shape of which is a standing human figure.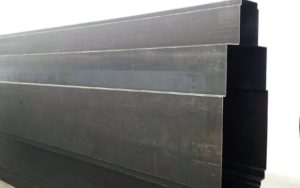 A bit gimmicky was my first thought, but walking into it changed my mind.  There is no light at all in there and you walk slowly, blind, hands outstretched in front of you, feeling for the end of the tunnel.  Then, looking back you see the folk looking in, peering into the dark, unable to see you. You emerge gradually, a returning apparition, as you walk back along the tunnel.  It makes one think about light and dark, insides and outsides, the known and the unknown.
Yet this isn't the most memorable piece. That accolade belongs to 'Sleeping Field' a large installation of
over 500 small iron sculptures in a white room.  At first these look like blocks, though it isn't long before one begins to see human forms.  Then more human forms, in relaxed and open positions; then more, lying, sitting, twisted; then more, contorted into shapes of despair.  We spent a long time looking, then went away and came back and looked some more. This stunning piece has been sold ( the gallery assistant didn't say to whom ) and I hope it's going to a public institution, because it cries out for interaction with people, lots of them. I hope it
remains on display somewhere.
Like the very best of modern art this exhibition gets you to look and see in different ways  Those sculptures in Rooms Two and Three, which looked like a collection of metal rods, or blocks of metal, when one first looked at them are, once you return to them, so very obviously a standing figure and a reclining nude.  The stacks of steel bars of Pieces 14 and 15 are not only figures, but figures with specific characteristics, like shyness.
If you have a chance, do go and see this FREE exhibition before it closes. I am only sorry that I did not go before, had I done so, I would have returned again. 'Fit; closes on Sunday 6th November at White Cube, Bermondsey.
If you enjoyed reading this article you might also enjoy                          Switch House Exhibits           Georgia O'Keeffe