The Silver Rings is published later this month and, like every book published these days, will have a range of publicity accompanying it.  There is no launch party – its author isn't mobile enough – but there will be a number of on-line features.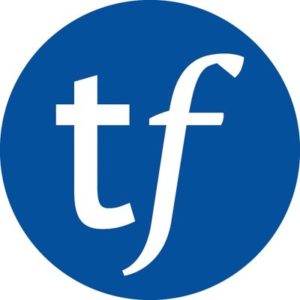 For the first time a Story Bazaar book will a feature on Trip Fiction, the web-site which connects places with reading. The site is publishing an article on Jerez de la Frontera and the two Al Andalus books – Reconquista and The Silver Rings – in conjunction with a number of Spanish tourist boards, Turismo Jerez, Turismo Cadiz and Turismo Provincial de Cadiz focusing on the holiday, and holiday reading market.  Jerez promotes itself as a destination to the Scandinavian, Netherlands and German markets, as well as Britain and, while the books aren't yet in translation there are English-speaking markets there – copies of Reconquista are sold in Germany, Holland and Norway.
The excellent, atmospheric photographs of the historic monuments were supplied by Turismo Jerez (the rather poorer ones are my own). There will be coordinated promotion across Twitter, Facebook and other social media platforms by the tourist boards and Trip Fiction. Look out for it on-line later in November.
Book sites Readers in the Know, Ask David and Awesome will, I hope, also be taking part, featuring The Silver Rings as a newly published historical novel and I will be doing interviews about it and its predecessor with a number of bloggers, just as I did for Reconquista (see Promoting a book ).  Paid advertising aside, which I have not yet decided upon, this should mean the image of The Silver Rings reach more than 75,000 people on-line from day one.
The Silver Rings will not, contrary to popular wisdom, have its own launch page and 'landing site' on-line. Indeed the site for Reconquista, reconquista.online, will disappear in the New Year too as part of a major overhaul and re-vamp of The Story Bazaar, but more on this nearer the time.
In print, local magazines like SW4, Aspire and Time & Leisure, are being approached to carry short pieces.  Both these publications carried articles about Reconquista and/or The Village, so this will be by way of a follow-up.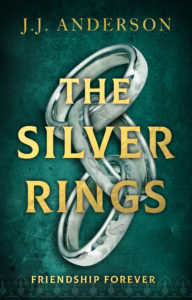 Such articles can have unexpected ramifications, it was because of one such, in Time & Leisure that I met  Elizabeth Bergstone, the actress who eventually voiced The Village audio-book. The Press Release will be circulated to all local media.
One of the keys to all of this is, however, having an appealing cover, both in print and on-line. Thank you to everyone who responded to my request for preferences, either through the comment box or separately. In general, the cascading rings image was preferred, but the cold blue was not liked.  I asked my book cover designer to give me a warmer colour and to amend the rings slightly so that they bear the symbols of the three rings in the book – a bird, a fish and a cup.  You can see the result, it now has a greenish blue background, with a lacy brocade pattern along the bottom edge, just like for Reconquista.  Again there is a strong central image, which certainly worked for the first book.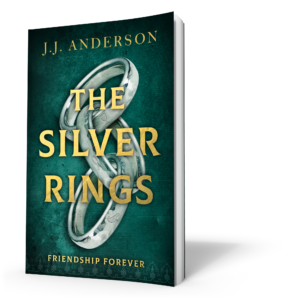 Lining everything up for launch day – currently scheduled for 26th November – will be taking a lot of time and effort, but things are slowly falling into place.  The 'e' book (epub, mobi versions etc.) are already up-loaded to Smashwords and their associated on-line book retail sites and the coming week will see final upload to Amazon and Kindle. Then, well, it's on to launch.
For more on book launches                      Sunshine and Flamenco Guitar                     How NOT to promote a book